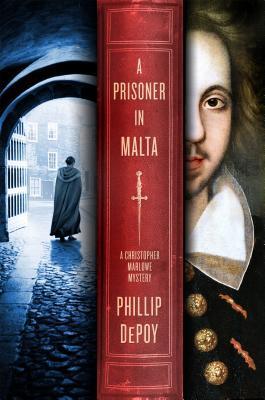 Someone is plotting to kill Queen Elizabeth. The Queen's spymaster Sir Francis Walsingham has changed the nineteen year old Christopher Marlowe with tracking down the truth of this impending threat.
The only thing anyone knows for sure is there is a prisoner who has information about the plot and Walsingham feels sure that Marlowe can rescue the prisoner and discover what there is to know about the threat. Christopher Marlowe has quite the reputation….he's known as a brawler, womanizer, genius, and social upstart at Cambridge.
His investigation will take him through a treacherous world of Catholic sympathizers, the Spanish government, and double agents…..this isn't going to be an open and shut case…..it will challenge Marlowe in many ways! But can he solve the case before it's too late?
I was hesitant to read this novel for one reason…..it sounded strange. Legendary playwright Christopher Marlowe meets James Bond? Sounds random and frankly a little strange. But lately I've had really good luck with novels that 'sound strange' but end up being really good so I decided to give this one a go.
In my mind I was thinking, either this is going to work or it isn't and I will be able to tell fairly quickly. I was surprise at how well the story flowed. The Tudor period is FULL of novels….almost all set in England. So when I saw that someone was plotting to kill Queen Elizabeth, my natural instinct told me a majority of the novel would take place in England…..but the title indicated a more exotic location. I was thrilled that Marlowe's investigating took him out of England and to Malta! It was refreshing for me as a reader to be somewhere else but yet surrounded with a familiar period and history.
One thing that I was particularly impressed by was DePoy's ability to write a well researched novel without all that research taking center stage. I think one of the challenges with writing historical fiction (or any of it's sub genres) is writing a balanced story where history AND characters find similar 'glory' within the story. This story had the potential to become bogged down with details, but DePoy did a fantastic job writing well drawn and complete characters who took center stage. I was impressed by DePoy's ability to do both research and characters justice!
Marlowe's character was a great protagonist! He was smart and witty but he is also flawed. I felt like there is more to learn about Marlowe in future books and I liked that. I love a character that unfolds and develops with the story and I think that DePoy wrote Marlowe's character to be like that.
The only thing that I struggled a bit with was there was a lot going on within the plot. I think other reviews noted similar issues so I am glad I wasn't the only one. The plot is tedious with a lot of sub plots going on and things to keep track of. It's some times hard to distinguish whats central and important to the main plot and what is just filler or distraction. For me personally, I struggled to keeps things straight at times.
But that said, this story was exceptionally satisfying. There was plenty of action, swordplay, double crossing, mystery, and intrigue to satisfy my 'historical mystery' need. And I think this series has the potential to develop and grow in many ways! If you enjoy Tudor or historical mysteries, with a spymaster then this is a wonderful read!
Challenge/Book Summary:
Book: A Prisoner in Malta by Phillip DePoy
Kindle Edition, 320 pages

Expected publication: January 26th 2016 by Minotaur Books

Review copy provided by: Publisher/Author in exchange for an honest review.
This book counts toward: NA
Hosted by: NA
Books for Challenge Completed: NA
Recommendation: 4 out of 5
Genre: Historical fiction, mystery, spy novel, Tudor era
Memorable lines/quotes: NA