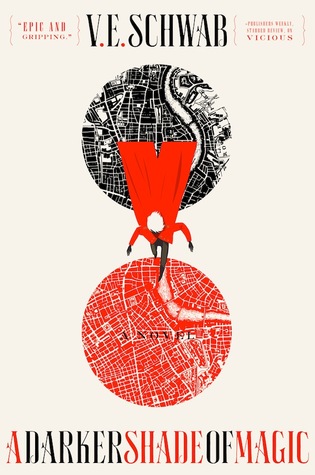 This book has been all OVER my social media feed for months but especially the last few weeks with the upcoming release of the second book in the series.
So I decided on a whim to try it out. The cover is totally eye catching and the premise for the story sounds intriguing, plus I haven't read a really good fantasy in a while so I picked this book up.
Kell is one of the last Travelers, which is a rare magician who choose a parallel universe to visit. Grey London is dirty, boring, lacks magic, ruled by mad King George. Red London is where life and magic are revered (also home of Kell), and the Maresh Dynasty presides over a flourishing empire. White London is ruled by whoever has murdered their way to the throne. People fight to control magic, and the magic fights back, draining the city to its very bones. Once there was Black London—but no one speaks of that now.
Officially, Kell is the Red Traveler, personal ambassador and adopted Prince of Red London, carrying the monthly correspondences between royals of each London. Unofficially, Kell smuggles for those willing to pay for even a glimpse of a world they'll never see. This dangerous hobby sets him up for accidental treason. Fleeing into Grey London, Kell runs afoul of Lila Bard, a thief with lofty aspirations. She robs him, saves him from a dangerous enemy, then forces him to another world for her 'proper adventure'.
But perilous magic is afoot, and treachery lurks at every turn. To save all of the worlds, Kell and Lila will first need to stay alive—trickier than they hoped.
OK to start off….this is a fantasy book that would appeal to either YA readers or adults….the main characters are younger (20's) but would easily appeal to adults…..to me the story was more adult than YA but older YA audiences would also like it I think.
This is also a fantasy without a lot of 'romance'. The focus of the book is on adventure which I really really liked, and this was a proper adventure story! Lila is kind of this swashbuckling 'pirate' of sorts and her strength and resolve  don't waiver when she meets Kell. Kell is a kind of 'royal' and a unique magician. He's not overly charming but he's mysterious and he clearly has an interesting past and interesting magic. I liked both of the characters but for me, Lila stole the show.
The whole 'adventure' was very engaging and I loved how they transverse three different London's in parallel universes etc. But there was something the just didn't quite 'get' me in the way that I expected. I don't know why but I just felt a little neutral about the whole book. I loved a lot of different aspects but something was missing for me and I can't quite put my finger on it. Part of me felt like at times the magic was a little TOO convenient. I didn't feel like the book was 'bad' and I would definitely read the next book in the series but I didn't find that I was devouring the book as I had expected.
I haven't read a lot of parallel universe books or true fantasy books so maybe it's just that I need to get used to the whole genre…..I appreciated that there wasn't a lot of romance and that the focus remained on the adventure but I don't know I just felt that things could have unfolded a little more quickly. I understand the need for world building (which was also fantastic) but something just felt missing…..not in the London worlds but just throughout the book. I think I would have felt more comfortable within the book if there had been a clear 'hero' from the beginning.
When the book started with Kell I expected him the be the 'hero' but for me Lila seemed more like 'hero' yet I wasn't sure…. they seemed to share the spotlight and I wanted a clear cut hero. I thought 3 (potentially 4) London's were challenging only because we got so little time in each. I didn't feel like I could get a full grasp on the London's…..like I couldn't really get a true 'feel' for each world.
All that said though, this book has a TON to recommend itself! Interesting worlds, a real adventure, and magic! I would happily read the other books in the series and I would also read anything by Schwab…..brilliant writer! I just think I expected something different from the book but that doesn't mean it's not good……if you are looking for a real fantasy type novel, you might want to give this one a go!
Challenge/Book Summary:
Book: A Darker Shade of Magic by V.E. Schwab 
Kindle, 398 pages

Published February 24th 2015 by Tor Books
This book counts toward: NA
Hosted by: NA
Books for Challenge Completed: NA
Recommendation: 4 out of 5
Genre: Fantasy, adventure, YA
Memorable lines/quotes: