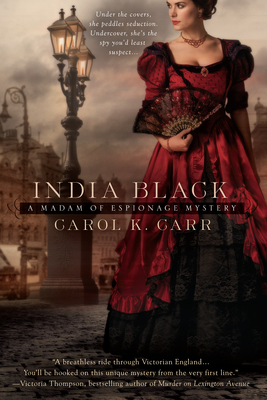 This book has randomly surfaced on my Goodreads recommendations page and Twitter feed for the last few years now.
I personally love the cover and thought it sounded like an intriguing read. Well recently I saw someone else on Twitter reading it and I suddenly felt like it was time to check it out.
When Sir Archibald Latham of the War Office dies from a heart attack while visiting her brothel, Madam India Black is unexpectedly thrust into a deadly game between Russian and British agents who are seeking the military secrets Latham carried.
Blackmailed into recovering the missing documents by the British spy known as French, India finds herself dodging Russian agents-and the attraction she starts to feel for the handsome conspirator (summary from Goodreads).
So I guess the whole 'deadly game' bit had me thinking this was going to be more of a murder mystery but it wasn't. This was more of a heist than a murder mystery by far. The whole novel is spent trying to track down a mysterious black case of English documents rather then trying to solve a murder.
It was much different than what I was expecting. I was actually kind of disappointed that this was all that happened throughout the novel though.
Continue reading "Review: India Black (Madam of Espionage #1) by Carol K Carr" →