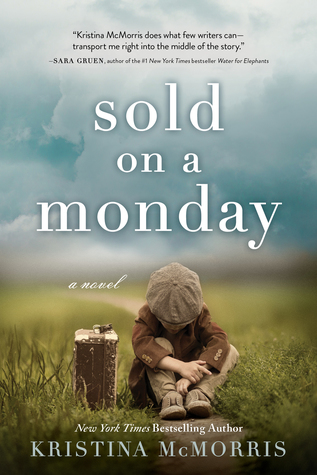 If you are looking for something new to read this coming fall, then look no further than this beautiful story about love and redemption. I am hoping to review this one later this fall but until then, take a look at this eye catching cover that promises a memorable and compelling story for readers!
From New York Times bestselling author Kristina McMorris comes another unforgettable novel inspired by a stunning piece of history.
2 CHILDREN FOR SALE
The sign is a last resort. It sits on a farmhouse porch in 1931, but could be found anywhere in an era of breadlines, bank runs, and broken dreams. It could have been written by any mother facing impossible choices.
For struggling reporter Ellis Reed, the gut-wrenching scene evokes memories of his family's dark past. He snaps a photograph of the children, not meant for publication. But when it leads to his big break, the consequences are more devastating than he ever imagined.
At the paper, Lillian Palmer is haunted by her role in all that happened. She is far too familiar with the heartbreak of children deemed unwanted. As the bonds of motherhood are tested, she and Ellis must decide how much they are willing to risk to mend a fractured family.
Inspired by an actual newspaper photograph that stunned the nation, Sold on a Monday is a powerful novel of love, redemption, and the unexpected paths that bring us home.
About the Author
KRISTINA MCMORRIS is a New York Times and USA Today bestselling author. Her novels have garnered more than two dozen literary awards and nominations, including the IMPAC Dublin Literary Award, RWA's RITA® Award, and a Goodreads Choice Award for Best Historical Fiction. Inspired by true personal and historical accounts, her works of fiction have been published by Penguin Random House, HarperCollins, and Kensington Books. Her forthcoming novel, Sold on a Monday (Sourcebooks Landmark, 8-28-18), follows her widely praised The Edge of Lost, The Pieces We Keep, Bridge of Scarlet Leaves, and Letters from Home. Additionally, her novellas are featured in the anthologies A Winter Wonderland and Grand Central. Prior to her writing career, Kristina hosted weekly TV shows since age nine, including an Emmy® Award-winning program, and has been named one of Portland's "40 Under 40" by The Business Journal. She lives with her husband and two sons in the Pacific Northwest, where she is working on her next novel. For more, visit www.KristinaMcMorris.com