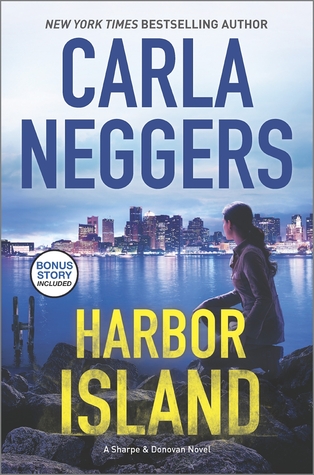 I recently reviewed one of Carla Neggers's Sharpe & Donovan novel, Declan's Cross and though I didn't read some of the other novels in the series, it was an interesting plot with with history, romance, and suspense.
I am looking forward to the novel book in the series, Harbor Island.
In this book, Emma Sharpe finds herself on a wild ride which takes her from Boston, to Ireland, and back across the pond to Maine.
I am thrilled to be able to post this except from this thrilling novel! Please enjoy the excerpt and be sure to add it to your TBR list today!
Boston, Massachusetts
As she wound down her run on the Boston waterfront, Emma Sharpe could feel the effects of jet lag in every stride. Three days home from Dublin, she was still partly on Irish time and had awakened early on the cool November Saturday. She'd strapped her snub-nosed .38 onto her hip, slipped into her worn-out running shoes and was off. With less than a half mile left in her five-mile route, she was confident she hadn't been followed. Not that as an art-crimes specialist she was an expert at spotting a tail, but she was an FBI agent and knew the basics.
Matt Yankowski, the special agent in charge of the small Boston-based unit Emma had joined in March, hadn't minced words when he'd addressed his agents yesterday on a video conference call. "This Sharpe thief knows who we are. He knows where we work. It's also possible he knows where we live. If he doesn't, he could be trying to find out. Be extra vigilant." Yank had looked straight at Emma. "Especially you, Emma."
Yes. Especially her.
This Sharpe thief.
Well, it was true. She was, after all, the granddaughter of Wendell Sharpe, the octogenarian private art detective who had been on the trail of this particular serial art thief for a decade. Her brother, Lucas, now at the helm of Sharpe Fine Art Recovery, was also deeply involved in the stepped-up search for their thief, a clever, brazen individual—probably a man—who had managed to elude capture since his first heist in a small village on the south Irish coast.
Emma slowed her pace and turned onto the wharf where she had a small, ground-level apartment in a three-story brick building that had once been a produce warehouse. Her front windows looked out on a marina that shared the wharf. A nice view, but people passing by to get to their boats would often stop outside her windows for a chat, a cigarette, a phone call. Although she'd grown up on the water in southern Maine, she hadn't expected her Boston apartment to be such a fishbowl when she'd snapped it up in March, weeks before the boating season.
Had the thief peeked in her windows one day?
She ducked into her apartment, expecting to find Colin still in bed or on the sofa drinking coffee. Special Agent Colin Donovan. A deep-cover agent, another Mainer and her fiancé as of four days ago. He'd proposed to her in a Dublin pub. "Emma Sharpe, I'm madly in love with you, and I want to be with you forever."
She smiled at the memory as she checked the cozy living area, bedroom and bathroom. Colin wasn't anywhere in the 300-square-foot apartment they now more or less shared. Then she found the note he'd scrawled on the back of an envelope and left on the counter next to the coffee press in the galley kitchen. "Back soon."
Not a man to waste words.
He'd filled the kettle and scooped coffee into the press, and he'd taken her favorite Maine wild-blueberry jam out of the refrigerator.
Still smiling, Emma headed for the shower. She was wide awake after her run, early even by her standards. After three weeks in Ireland, she and Colin had thoroughly adapted to the five-hour time difference. Their stay started with a blissful couple of weeks in an isolated cottage, getting to know each other better. Then they got caught up in the disappearance and murder of an American diver and dolphin-and-whale enthusiast named Lindsey Hargreaves. Now, back home in Boston, Emma was reacquainting herself with Eastern Standard Time.
Making love with Colin last night had helped keep her from falling asleep at eight o'clock—one in the morning in Ireland. He seemed impervious to jet lag. His undercover work with its constant dangers and frequent time-zone changes no doubt had helped, but Emma also suspected he was just like that.
Colin would know if someone tried to follow him. No question.
She pulled on a bathrobe and headed back to the kitchen. She made coffee and toast and took them to her inexpensive downsize couch, which was pushed up against an exposed-brick wall and perpendicular to the windows overlooking the marina. She collected up a stack of photographs she and Colin had pulled out last night, including one of herself as a novice at twenty-one. Colin had put it under the light and commented on her short hair and "sensible" shoes. She wore her hair longer now, and although she would never be one for four-inch heels, her shoes and boots were more fashionable than the ones she'd worn at the convent.
Colin had peered closer at the photo. "Ah, but look at that cute smile and the spark in your green eyes." He'd grinned at her. "Sister Brigid was just waiting for a rugged lobsterman to wander into her convent."
Emma had gone by the name Brigid during her short time as a novice with the Sisters of the Joyful Heart, a small order on a quiet peninsula not far from her hometown on the southern Maine coast. In September, a longtime member of the convent and Emma's former mentor, an expert in art conservation, was murdered. Yank had dispatched Colin to keep an eye on her. He'd tried to pass himself off as a lobsterman—he'd been one before joining the Maine marine patrol and then the FBI—but Emma had quickly realized what he was up to.
"I bet you were wearing red lace undies," he'd said as he'd set the photo back on the table.
Emma had felt herself flush. "I don't wear red undies now."
He'd given her one of his sexy, blue-eyed winks. "Wait until Valentine's Day."
They'd abandoned the photos and had ended up in bed, making love until she'd finally collapsed in his arms. He was dark-haired, broad-shouldered and scarred, a man who relied on his natural instincts and experience to size up a situation instantly. He didn't ruminate, and he wasn't one to sit at a desk for more than twenty minutes at a time. She was more analytical, more likely to see all the ins and outs and possibilities—and she was a ruminator.
As different as they were, Emma thought, she and Colin also had similarities. The FBI, their Maine upbringings, their strong families, their love of Ireland. Their whirlwind romance wasn't all an "opposites attract" phenomenon, a case of forbidden love that had come on fast and hard. They hadn't told anyone yet of their engagement. On Monday night in Dublin, Colin had presented her with a beautiful diamond ring, handmade by a jeweler on the southwest Irish coast. She'd reluctantly slipped the ring off her finger when they'd arrived at Boston's Logan Airport from Dublin late Tuesday.
Emma was so lost in thought, she jumped when her cell phone vibrated on the table. She scooped it up, expecting to see Co-lin's name on the screen. Instead, it was a number she didn't recognize. A wrong number? She clicked to answer, but before she could say anything, a woman spoke. "Is this Emma Sharpe? Agent Sharpe with the FBI?"
"Yes, it is. Who are you?"
"What? Oh. My name's Rachel Bristol. I need to talk to you. It's important."
"All right. Please go ahead."
"Not on the phone. In person. Meet me on Bristol Island. It's in Boston Harbor. There's a bridge. You don't have to take a boat."
"Ms. Bristol, what's this about?"
"It's about your art thief. Bristol Island, Agent Sharpe. Be at the white cottage in thirty minutes or less. There's a trail by the marina." She paused. "Come alone. Please. I will talk only to you."
Rachel Bristol—or whoever she was—disconnected. Emma sprang to her feet. Thirty minutes didn't give her much time.
She ran to her bedroom and dressed in dark jeans, a dark blue sweater, a leather jacket and boots. She grabbed her credentials and strapped on her service pistol. She didn't leave a note for Colin. She would text him on the way.
Meeting confidential informants was a tricky business even with protocols, training and experience. But it didn't matter. Not this time.
Her thief.
Her problem.
Excerpted from the book HARBOR ISLAND by Carla Neggers.  Copyright © 2014 by Carla Neggers.  Reprinted with permission of Harlequin Mira.  All rights reserved