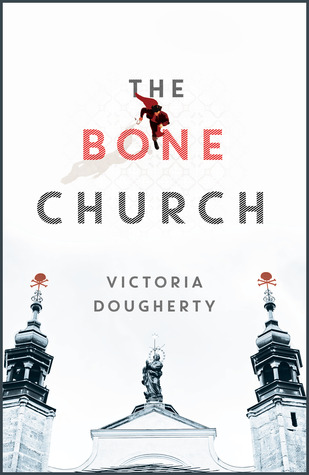 We all know that summer is prime reading time! Spy novels make the perfect beach read! Right now on Amazon Kindle, you can get The Bone Church by Victoria Dougherty for free! This thrilling debut novel is free for a limited time only, 5/21-5/25!
I will be reviewing this novel this summer and I can't wait! It sounds so captivating and full of intrigue!
If you are interested in historic thrillers or spy novels then this might be a new one to try! And really, you can't go wrong with free! Click here to purchase your copy today! 
About The Bone Church
In the surreal and paranoid underworld of wartime Prague, fugitive lovers Felix Andel and Magdalena Ruza make some dubious alliances – with a mysterious Roman Catholic cardinal, a reckless sculptor intent on making a big political statement, and a gypsy with a risky sex life. As one by one their chances for fleeing the country collapse, the two join a plot to assassinate Hitler's nefarious Minister of Public Enlightenment and Propaganda, Josef Goebbels. But the assassination attempt goes wildly wrong, propelling the lovers in separate directions. 

Felix's destiny is sealed at the Bone Church, a mystical pilgrimage site on the outskirts of Prague, while Magdalena is thrust even deeper into the bowels of a city that betrayed her and a homeland soon to be swallowed by the Soviets. As they emerge from the shadowy fog of World War II, and stagger into the foul haze of the Cold War, Felix and Magdalena must confront the past, and a dangerous, uncertain future.
About Victoria Dougherty
Victoria Dougherty has for nearly twenty years distinguished herself as a master storyteller, writing fiction, drama, speeches, essays, and television news segments/video scripts.

In Prague, Ms. Dougherty co-founded the acclaimed Black Box Theater, translating, producing and acting to sold-out audiences in several Czech plays – from Vaclav Havel's riveting "Protest" to the unintentionally hilarious communist propaganda play "Karhan's Men." Black Box Theater was profiled in feature articles in USA Today, International Herald Tribune, and numerous European publications.

Currently, Ms. Dougherty lives with her family in Charlottesville, VA, and has recently completed a series of thematically linked Cold War spy thrillers. She is represented by Josh Getzler of Hannigan Salky & Getzler