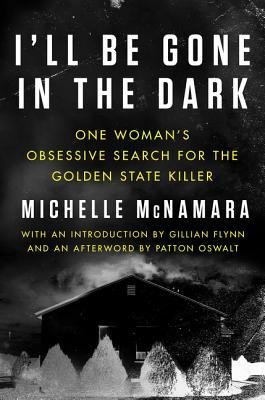 This book was on my radar well before the Golden State Killer's capture in April 2018. My sister had listened to the audiobook when it first came out in February 2018 and raved about it to me.
But like a big sister, I listened and promised to read it soon. But honestly, I had no real intention. I love true crime, but Ann Rule is the true crime queen for me, and no one can come close. Basically, I haven't branched out to any other true crime authors so my intention of reading this book was minimal.
Then the news hit in April that he had been arrested and this author's book was a huge contributing factor in his arrest. So I headed to my local library and put a hold on it. Three months passed before it was finally my turn to read this book.
In the mean time, the hype grew and grew. Finally it was my turn and I was eager to start reading it the second I got home.
A masterful true crime account of the Golden State Killer—the elusive serial rapist turned murderer who terrorized California for over a decade—from Michelle McNamara, the gifted journalist who died tragically while investigating the case.
"You'll be silent forever, and I'll be gone in the dark."
For more than ten years, a mysterious and violent predator committed fifty sexual assaults in Northern California before moving south, where he perpetrated ten sadistic murders. Then he disappeared, eluding capture by multiple police forces and some of the best detectives in the area.
Three decades later, Michelle McNamara, a true crime journalist who created the popular website TrueCrimeDiary.com, was determined to find the violent psychopath she called "the Golden State Killer." McNamara pored over police reports, interviewed victims, and embedded herself in the online communities that were as obsessed with the case as she was.
At the time of the crimes, the Golden State Killer was between the ages of eighteen and thirty, Caucasian, and athletic—capable of vaulting tall fences. He always wore a mask. After choosing a victim—he favored suburban couples—he often entered their home when no one was there, studying family pictures, mastering the layout. He attacked while they slept, using a flashlight to awaken and blind them. Though they could not recognize him, his victims recalled his voice: a guttural whisper through clenched teeth, abrupt and threatening.
I'll Be Gone in the Dark—the masterpiece McNamara was writing at the time of her sudden death—offers an atmospheric snapshot of a moment in American history and a chilling account of a criminal mastermind and the wreckage he left behind. It is also a portrait of a woman's obsession and her unflagging pursuit of the truth. Framed by an introduction by Gillian Flynn and an afterword by her husband, Patton Oswalt, the book was completed by McNamara's lead researcher and a close colleague. Utterly original and compelling, it is destined to become a true crime classic—and may at last unmask the Golden State Killer (summary from Goodreads). 
I love true crime. I love shows like Law and Order SVU (I've lost many a weekend to the USA SVU marathons) so this book should be right up my alley, but I need to be in a mood to read a true crime book—and I was in a mood to read this one.
For me, this book read very much like a podcast or blog. McNamara is a blogger so it makes sense that her writing style for a novel would be similar. It's to the point and doesn't mess around with a lot of technical details like some true crime books do which was nice. However there was something about the writing style that didn't hold my interest. The story content was captivating but the execution was a little unstructured for my taste. There was some jumping between the time of the crimes and the modern day hunt McNamara was involved in which was ok, but for me I would rather have had the facts of the case a little more organized first and then the modern day hunt.
Also the facts of the case were minimal. Were they relevant to the over all story? Probably not but I would have liked to have seen a little more. The parts about the killer stalking his victims was terrifying and I think a few more details about the crime itself would have capitalized more on that terror.
Side note…..while I was reading this book, I was doing laundry and I found a pair of gym shorts in the laundry that didn't belong to me or my husband. For the entire day I was sure that we had been targeted by a serial rapist/killer, until just before bed that night my husband was like oh ya those are mine.
That should tell you just how into this book I was. It was a chilling book, but at the same time I think it could have been more captivating with a little more detail about the crimes themselves. A lot of people said that they couldn't read this book at night or that it was too scary to read alone. And yes, it had it's scary moments but for me Ann Rule will still be the queen of true crime terror.
McNamara died before this book could be published, so I think it stands to reason that what we have is a rough draft that was finished by her very non-writer investigators. I think that had McNamara lived, this book would have had a lot more polish. The last part of the book was also written by her researchers and full of way too many technical terms and theories about DNA and geo-mapping.
This book seems to have revived the true crime genre for a lot of readers and after thinking about why for a few days, I think it's safe to say that McNamara's style is more modern and to the point. Ann Rule tends to be a little more old fashion in her execution and a little more detailed in her writing which can frustrate some readers. McNamara is bold and to the point and doesn't waste a lot of time with fluff. As I said, this book read a lot like a blog or podcast meaning it's easy to read and comes with the bonus of chilling content. It kind of inspired me to look into some true crime podcasts and blogs. I am a total armchair detective and would love the chance to work on something like this. Maybe some day when my baby is in school I'll take more time to focus on that but until then, I'll satisfy my love of true crime with books like this!
Challenge/Book Summary:
Book: I'll Be Gone in the Dark: One Woman's Obsessive Search for the Golden State Killer by Michelle McNamara 
Hardcover, 328 pages

Published February 27th 2018 by Harper
Review copy provided by: personal collection.
This book counts toward: NA
Hosted by: NA
Books for Challenge Completed: NA
Recommendation: 4.5 out of 5
Genre: non fiction, true crime
Memorable lines/quotes: