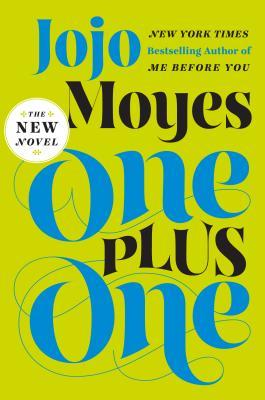 For those of you who have followed my blog for awhile now know that I'm a big Jojo Moyes fan. I've read a lot of her books and am always eager to read another book by her!
Last year I read her latest book ONE PLUS ONE which was released in July. Now it's coming out in paperback! This post also includes a GIVEAWAY for a paperback copy of this romantic and touching novel.
You can listen to a free sample of the novel by clicking here! 
There is also a great book club kit that goes along with this book, so if your book club is still looking for a book of the month, you might want to take a look at this page!
There are a few recipes, cocktails, and playlists all inspired by ONE PLUS ONE….and of course there is a great convo/discussion with Jojo Moyes that your books clubs would enjoy!
Now for the GIVEAWAY!
Giveaway runs 4/6/15 to 4/13/15
Winners will be announced 4/14/15.
(how to enter)
On this blog you must leave a comment to be entered in the giveaway.  Your comment MUST include your email so I can contact you….if you do not enter an email in the comments your entry will be void. Winners will be notified by email the day after the giveaway closes and have five days to respond, it not another winner will be chosen. 
(GIVEAWAY OPEN TO US ONLY AND NO PO BOX)
Make sure you note if you have done the following for more chances to win: Tweet about the giveaway (+1), share on Facebook (+1), like The Lit Bitch on Facebook (+1), follow The Lit Bitch on Twitter (+1), subscribe to The Lit Bitch's blog (+1). Tweet/RT about the giveaway (+1). Share about the giveaway (+1).