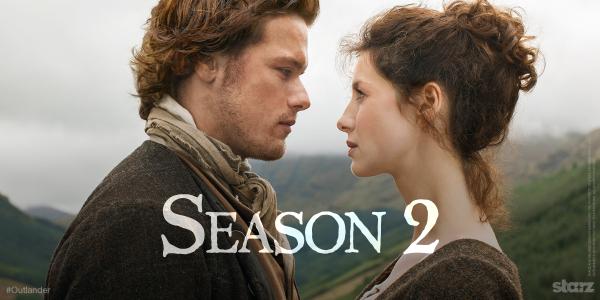 For those of you who have followed this blog for a lengthy time, you will know how much I LOVE the Outlander series! It is one of the best series I've read and I recommend it to almost everyone I meet who like historic fiction.
So it goes without saying that I have been glued to my TV every Saturday night watching the Starz Outlander series which is based on the books.
Like me, one of my friends, Spencer Blohm, has been eagerly awaiting the return of the series and in anticipation of Outlander's return, he wrote a wonderful article to get us all excited about Outlander! So sassenachs please enjoy!
After a Prolonged Absence, Outlander Returns!
Adapted by Battlestar Galactica showrunner Ronald D. Moore from the bestselling series of novels by Diana Gabaldon, Starz fantasy series Outlander combines political intrigue, romance, and sci-fi fantasy to bring viewers an experience unlike anything else on television. If that sounds a bit too much like Game of Thrones to be truly original, bear in mind that Outlander features a strong willed female protagonist and a real location – the Scottish Highlands, circa 1743.
The fantasy element, though minimal, serves as a framing device for the narrative. Our hero Claire (Caitriona Balfe) is an army nurse in 1945, on her second honeymoon with her husband Frank Randall (Tobias Menzies) after years of separation brought about by World War II. Frank's occupation as a historian brings them to Scotland, where Claire is transported back to 1743 after touching a standing stone. Once there, she meets Frank's ancestor, the British captain Jack Randall (also played by Menzies), who immediately attempts to rape her, and the dashing young fugitive Jamie Fraser (Sam Hueghan), who becomes the closest thing Claire has to an ally in 1743. Claire uses her nursing ability to tend to the wounds Jamie suffered at Jack's hands, and together they travel to Castle Leoch, home of the MacKenzie family.
From here, the series jumps into the tense rhythms of a taut political thriller. Claire is the "Outlander" of the title, ignorant of the customs of the Scottish Highlanders. She desperately wants to return to the standing stones and travel back to her own time, but her attempts are repeatedly foiled by the MacKenzies, who suspect her of being a British spy. As she uses her medical abilities to try and earn their trust, a romance develops between her and Jaime. As the sadistic Jack Randall persists in his attempts to discover Claire's secret, the MacKenzies advise her to wed Jamie, so she will be protected as the wife of a Highlander. Claire is conflicted because of her marriage to Frank but realizes she has no other choice.
In the thrilling mid-season finale, Claire was tantalizingly close to returning to the standing stones and finally making her way back to her own time when she was captured by the British. Captain Jack has her tied up with only one thing on his mind when all of a sudden, Jamie bursts through the window, saying "I'll thank you to take your hands off my wife!"…. and the episode ends. For the premiere of the next season, a major event will take place London on March 23. The second season will continue to air on Starz (available from DirecTV via StarzPlay). Given the show's growing fan base, it might finally be ready to take on the popular characters of the seven kingdoms within the Game of Thrones.
So far, the show has strayed very little from the source material. Claire's role as a nurse is brought more to the forefront in the show, most likely for the added visceral impact of seeing her treat some pretty grisly injuries. The show has also added several scenes that show Frank in 1945, looking for his missing wife. This helps to highlight the effects of the love triangle on Claire, which was more effective in the books since we were privy to her inner monologue. One episode featured a battle of wills between Claire and a priest over the treatment of a young boy who the priest believed was possessed. This plot point enriched the show by contrasting the differences between scientific knowledge in 1743 and 1945, and helped build tension between the two characters.
Fans of the show can expect the second half of season one to be every bit as thrilling as the first, as Gabaldon's novel gathers more steam past the midway point. Suffice it to say that Claire's true origin is revealed to at least one more major character, and that she's not the only time traveler in the vicinity.