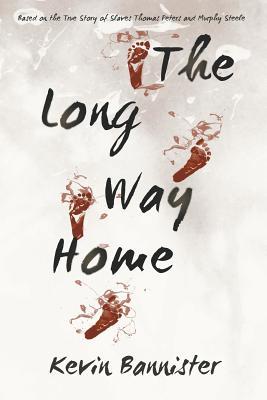 This book has been getting rave reviews on Goodreads and I am thrilled to be able to offer you a sneak peak of this interesting book!
If you love early American history then this might be the book you are looking for this holiday season…..and an excellent gift option as well!
This is Kevin Bannister's debut novel and it demonstrates not only unique storytelling but a promising future for this new writer. Keep reading to read an exciting excerpt from this novel!
Set in the turbulent times of the War of Independence, 'The Long Way Home' follows the lives of Thomas Peters and Murphy Steele who are friends, former slaves, fellows-in-arms and leaders of the Black Brigade. Their real-life story is an epic adventure tale as they battle bounty hunters, racism, poverty and epidemic in their adopted country after the war.
'The Long Way Home' has resonated with readers around the world as an unforgettable account of courage, hope and determination triumphing over despair and injustice. Thomas Peters, thoughtful and charismatic, and Murphy Steele, strong and impulsive, lead their followers on an inspirational search for a place where they can be free (summary from Goodreads). 
EXCERPT
Continue reading "Excerpt: The Long Way Home by Kevin Bannister" →