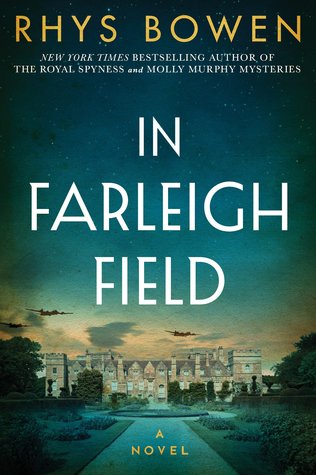 Rhys Bowen is probably best known for her Royal Spyness Mysteries series and her Molly Murphy Mysteries. She typically writes cozy mysteries, so when this book came across my desk for review, it sounded like something completely new for her which is why I decided to try it.
I've been reading a lot of cozy mysteries lately and welcomed a little break. I wasn't entirely sure what to expect from this one. The title suggests more literature, 'A Novel of World War II' says more literature rather than mystery to me. But yet the description sounded more mystery. Either way, I liked what I saw for the description and ultimately said yes to the book.
World War II comes to Farleigh Place, the ancestral home of Lord Westerham and his five daughters, when a soldier with a failed parachute falls to his death on the estate. After his uniform and possessions raise suspicions, MI5 operative and family friend Ben Cresswell is covertly tasked with determining if the man is a German spy.
The assignment also offers Ben the chance to be near Lord Westerham's middle daughter, Pamela, whom he furtively loves. But Pamela has her own secret: she has taken a job at Bletchley Park, the British code-breaking facility.
As Ben follows a trail of spies and traitors, which may include another member of Pamela's family, he discovers that some within the realm have an appalling, history-altering agenda. Can he, with Pamela's help, stop them before England falls?
Inspired by the events and people of World War II, writer Rhys Bowen crafts a sweeping and riveting saga of class, family, love, and betrayal (summary from Goodreads). (more…)