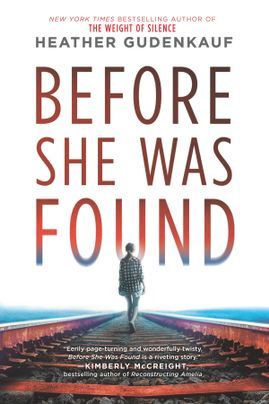 A gripping thriller about three young girlfriends, a dark obsession and a chilling crime that shakes up a quiet Iowa town
For twelve-year-old Cora Landry and her friends Violet and Jordyn, it was supposed to be an ordinary sleepover—movies and Ouija and talking about boys. But when they decide to sneak out to go to the abandoned rail yard on the outskirts of town, little do they know that their innocent games will have dangerous consequences.
Later that night, Cora Landry is discovered on the tracks, bloody and clinging to life, her friends nowhere to be found. Soon their small rural town is thrust into a maelstrom. Who would want to hurt a young girl like Cora—and why? In an investigation that leaves no stone unturned, everyone is a suspect and no one can be trusted—not even those closest to Cora.
Before She Was Found is a timely and gripping thriller about friendship and betrayal, about the power of social pressure and the price of needing to fit in. It is about the great lengths a parent will go to protect their child and keep them safe—even if that means burying the truth, no matter the cost.
Excerpt
Text Message Exchange Between Jordyn Petit and Violet Crow
Sunday, April 15, 2018
Jordyn: Going 2 Coras at 6.
Violet: Me, too. Are you going to bring it?
Jordyn: Yeah.
Violet: R we really doing this????
Jordyn: Yes! Unless UR 2 scared.
Violet: What if we get caught?
Jordyn: Just keep your mouth shut and we won't.
Monday, April 16, 2018
12:45 a.m.
The air is cold, but she barely notices. It's the dark that fills her chest with terror, makes her limbs heavy with dread. But she feels something else, too. Something that she can't quite name. It reminds her of how she feels the night before her birthday or on Christmas Eve but not exactly the same. Thinking about her birthday and Christmas makes her feel good, warm. This feels more like slowly climbing the ladder to the high dive at the swimming pool or like when the roller coaster at Adventureland reaches its highest peak just before it plunges straight down and she just knows she is going to die.
The train yard, filled with the carcasses of gutted-out buildings, is only illuminated by a wispy, wayward eyelash of a pale moon. She stretches out her neck, tilting her ear toward the tracks, hoping to get a sense as to where the others have gone but all she can hear is the wind whispering through the tall grass.
Too much time has passed. They may already be looking for them. It's now or never, she thinks nervously. She can do this, if she doesn't he'll never show up. That was the deal. Together in the bedroom, door locked, they planned everything so carefully right down to the day and hour.
In her right hand dangles the hawk-billed knife they secreted from a kitchen drawer. Her other arm hangs loosely at her side. At first they considered bringing a crowbar but decided that it was too big, too heavy to lift. This fits her fingers better, feels comfortable, reassuring in her palm. She will use it if she has to.
Over the past month or so he's written messages, love letters, really. Sweet, sentimental words that if she could, she would tuck inside her secret shoebox filled with lucky coins and heart-shaped rocks found over the years. But he warned her, said they could get in trouble, so instead she memorizes each sentence and murmurs them at night before she falls asleep and it's almost as if he's right there with her.
She picks up her pace and moves toward the tracks, dulled and worn down by time and elements. The rail ties are barely visible through the weeds, half-buried sun-bleached bones. She's breathing hard and suddenly realizes tears are rolling down her cheeks. On the opposite side of the tracks where the last year's winter wheat stands, unsown and bent like a wizened old man, is a field that in a few months will be filled with alfalfa. There she sees something. He is hidden in the shadows but she knows it's him. He's come. He beckons her with a raised hand and her heart leaps.
Out of the corner of her eye she sees a familiar shape sitting on the train tracks, knees tucked beneath her chin. The girl turns her head as she approaches, stretches out her legs, holds her injured arm close to her side. They don't speak. She trusts her. Of course she does.
The figure in the dry grass tilts his chin as if to say,Go ahead.Do it. I dare you.Her legs are not her own as she approaches, the knife bouncing lightly against her thigh. She stops in front of the girl who stands and smiles crookedly up at her through tears, her small teeth flashing white. Beneath her feet the ground vibrates, warning her of the coming train. She has to hurry; once the engine comes into view it will be too late. He'll leave.
In the distance a dog barks. The rumble of the train grows louder.
She strikes quickly, without thinking. The cold metal rips through fabric and skin easily. She thought it would be harder, take more effort. The girl looks at her in confusion, presses her fingers to her abdomen and pulls them away. The girl looks surprised to find them wet with blood.
The tracks shiver and shake with the approaching engine. The girl tries to squirm away but she yanks her backward and the slick knife slides through her fingers and to the ground; she slams the girl's head onto the track, the rusty bolts tearing at the girl's cheek, the delicate skin below her eye. Again and again she thrusts the girl's head down until her muscles burn and the girl goes limp. She considers leaving her on the tracks but in a burst of adrenaline she pushes the girl off the rails.
As she breathes deeply, her eyes search for him but he's gone. He's slipped back into the tall grass. He can't leave her behind. He promised. A wail from deep inside tries to find its way out but she finds she can't make a sound.
The freight train bears down on her with a long mournful cry and she considers staying still, allowing the engine to pull her beneath its iron wheels, but somehow her legs carry her over the tracks. She sees herself pushing through the plumes of winter wheat, painting them red as she brushes by, and finally catches sight of him. He pauses and turns to face her. He looks pleased.

Purchase Links
.
About Heather Gudenkauf
Heather Gudenkauf is a New York Times and USA Today bestselling author of The Weight of Silence and Not a Sound.  Heather lives in Iowa with her family.
.
Connect with Heather
Excerpts:
Monday, April 1st: The Lit Bitch
Tuesday, April 2nd: Lindsey Reads and Reviews
Wednesday, April 3rd: Jessicamap Reviews
Thursday, April 4th: Amy's Book-et List
Friday, April 5th: Books & Spoons
Monday, April 8th: Book Reviews and More by Kathy
Tuesday, April 9th: What is That Book About
Wednesday, April 10th: Bookish Connoisseur
Thursday, April 11th: Thoughts on This 'n That
Friday, April 12th: Lori's Reading Corner
Instagram:
Monday, April 15th: @theunreadshelf
Monday, April 15th: @wherethereadergrows
Tuesday, April 16th: @bookstackedblonde
Tuesday, April 16th: @tarheelreaders
Wednesday, April 17th: @bookclubwithbite
Thursday, April 18th: @readingbetweenthe_wines
Thursday, April 18th: @ashareads
Friday, April 19th: @shereadswithcats
Saturday, April 20th: @readingwithmere
Sunday, April 21st: @love_my_dane_dolly_
Reviews:
Monday, April 15th: Where the Reader Grows
Tuesday, April 16th: Tar Heel Readers
Wednesday, April 17th: Sweet Southern Home
Thursday, April 18th: Asha Reads
Thursday, April 18th: Thoughts from a Highly Caffeinated Mind
Friday, April 19th: From the TBR Pile
Monday, April 22nd: Palmer's Page Turners
Monday, April 22nd: @basicbsguide
Tuesday, April 23rd: Book Reviews and More by Kathy
Wednesday, April 24th: @booktimistic and Booktimistic
Thursday, April 25th: Bewitched Bookworms
Friday, April 26th: Helen's Book Blog
Monday, April 29th: Amy's Book-et List
Tuesday, April 30th: Jessicamap Reviews and @jessicamap
Wednesday, May 1st: @downtogetthefictionon
Wednesday, May 1st: Jathan & Heather
Thursday, May 2nd: Books & Bindings
Friday, May 3rd: @bookishconnoisseur
Monday, May 6th: Thoughts on This 'n That
Tuesday, May 7th: Novel Gossip and @novelgossip
Wednesday, May 8th: Book by Book
Wednesday, May 8th: @wordsinpages
Thursday, May 9th: Kahakai Kitchen
Friday, May 10th: Girl Who Reads
Monday, May 13th: Audio Killed the Bookmark and @beritaudiokilledthebookmark