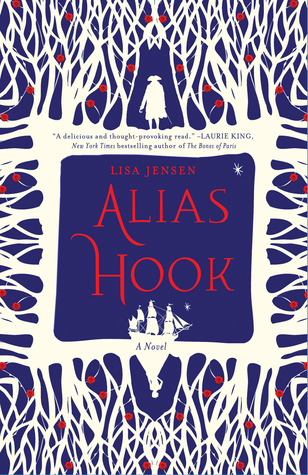 Stuck in Neverland with no hope of returning to the life he once had, James Hook is doomed. Until he meets the mysterious and alluring Stella Parrish.
Could this woman be the redemption Hook has been seeking for the last 200 years?
Thanks to the Publisher, I am ecstatic to be able to offer a copy of Alias Hook for your enjoyment! Giveaway is for one paperback copy. See the list of other giveaways for multiple chances to win a copy!
Giveaway runs 7/8/14 to 7/16/14
Winners will be announced 7/17/14.
(how to enter)
On this blog you must leave a comment to be entered in the giveaway.  Your comment MUST include your email so I can contact you….if you do not enter an email in the comments your entry will be void. Winners will be notified by email the day after the giveaway closes and have five days to respond, it not another winner will be chosen. 
(GIVEAWAY OPEN TO US/CANADA ONLY AND NO PO BOX)
Make sure you note if you have done the following for more chances to win: Tweet about the giveaway (+1), share on Facebook (+1), like The Lit Bitch on Facebook (+1), follow The Lit Bitch on Twitter (+1), subscribe to The Lit Bitch's blog (+1). Tweet/RT about the giveaway (+1). Share about the giveaway (+1).
Alias Hook Blog Tour
July 3: Passages to the Past – review, excerpt, giveaway http://www.passagestothepast.com/
July 5: Harlequin Junkie – excerpt, interview, giveaway http://harlequinjunkie.com/
July 7: Upcoming4.me – review, giveaway, original essay, republishing 'The Story Behind ALIAS HOOK' http://upcoming4.me/
July 8: USA Today's Happy Ever After – round-up of Fairy Tales Revisited http://www.usatoday.com/blog/happyeverafter/
July 8: The Lit Bitch – excerpt, giveaway, review https://thelitbitch.com/
July 8: A Bookish Affair – review http://abookishaffair.blogspot.com/
July 9: No More Grumpy Bookseller – excerpt, giveaway http://nomoregrumpybookseller.blogspot.com/
July 10: No More Grumpy Bookseller – review http://nomoregrumpybookseller.blogspot.com/
July 11: Reading Frenzy – interview, giveaway http://thereadingfrenzy.blogspot.com/
July 14: She Reads – Picture This – guest post http://www.shereads.org/
July 14: Gone Pecan – excerpt, giveaway, review http://gonepecanla.wordpress.com/
July 15: A Bookish Affair – interview, giveaway http://abookishaffair.blogspot.com/
July 16: Literary, etc. – excerpt, interview, giveaway http://literaryetc.com/
July 17: Let Them Read Books – excerpt, giveaway http://letthemreadbooks.blogspot.com/
July 18: Let Them Read Books – review http://letthemreadbooks.blogspot.com/
July 19: Cheryl's Book Nook – review, excerpt, interview, giveaway http://cherylsbooknook.blogspot.com/
July 21: Mary Gramlich – review, excerpt, interview, giveaway http://marygramlich.blogspot.com/
July 22: Cocktails & Books – review, interview, giveaway http://www.cocktailsandbooks.com/
July 23: My Friends are Fiction – review, interview, giveaway http://www.myfriendsarefiction.com/
July 24: Reading the End – review, giveaway http://readingtheend.com/
July 28: Reading the Past – interview http://readingthepast.blogspot.com/
July 29: Dark Faerie Tales – review, giveaway http://darkfaerietales.com/