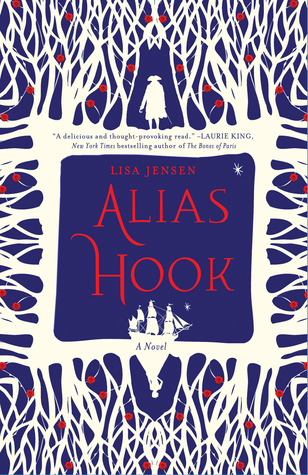 James Benjamin Hookbridge is everything a well educated young lad should be in the Restoration era. He's verses in music, woodcarving, sailing, and he's witty and charming.
He'e betrothed to a girl who he hopes will make him happy but while he comes from a wealthy family, he dreams of high seas adventure.
He travels to the West Indies and while there is he arrested for piracy and ultimately sold into slavery. His shipmate returns home to England and marries James's betrothed. When James learns of this he plans his revenge and is filled with anger and hate.
Once he is freed from slavery, he returns to the West Indies where he meets a mysterious woman who loves him and begs him to forget his hate and stay with her instead. When he refuses, she banishes him to the world of Neverland where he is locked in a perpetual battle between himself and his nemesis, Peter Pan.
While in Neverland he is no longer James Hookbridge…..he will be known only as Captain Hook. Hook and Pan are at constant odds with each other. Pan has killed Hook a number of times, but that magic that hold Hook there is the same magic that keeps him alive….he can't really die.
After 200 years of Lost Boys, battles, Pan, and the constant string of Wendy's, Hook has become a shadow of his former self. Day in an day out he fights the boys and Pan, nothing is ever really different but the anger still burns inside of him.
One day while he is out with his crew he discovers something completely out of the ordinary….a woman. Not a young Wendy, but a full grown woman. This is unprecedented! Hook has no choice but to take the woman back to his ship, if he leaves her in the forest the boys will surely find her!
Stella Parrish has somehow dreamed herself into the mysterious world of Neverland. She had the overwhelming urge to go there, like someone or something was calling her and needed her desperately. But there is one problem, will she ever be able to make it back to the world she knows?
After reading a lot of heavy and lengthy novels lately, this book was a welcome relief! The prose and dialogue were fluid and it was a fast read. I felt like I was making progress in the novel and that things were advancing sufficiently. I never felt like the plot was dragging or that I was being provided with any unnecessary info or back-story.
The only really big gripe that I had with the language was the over use of some 'fancy' vocabulary. For example, the word 'aplomb' and 'purloined' were a little much for me but over all the language wasn't 'fluffy' or overly done, I just happened to notice these two words seemed to be favorite descriptors.
I love adult retelling of classic fairy tales, and while Peter Pan is far from my favorite classic fairy tale, Jensen made me love it. I loved how she described Neverland and the colorful land of the fairies and mermaids. Wondrous and rich details!
One of the things I liked best about this novel was that it was told from a male perspective. It was refreshing to read a love story from a male perspective and the witty and charming Hook, was a perfect choice! The romance that develops between Stella and Hook was tender and warmed my heart the further and further on I got.
This book was an absolute delight to read! I've had it for months and it's been all I could do to not start reading it the moment I got it. When I was finally able to start reading it, I couldn't put it down….I was literally hooked!
Challenge/Book Summary:
Book: Book: Alias Hook by Lisa Jensen
Paperback, 368 pages
Expected publication: July 8th 2014 by Thomas Dunne Books (first published May 1st 2013)
ISBN 1250042151 

(ISBN13: 9781250042156)

Review copy provided by: Publisher in exchange for an honest review.
This book counts toward: NA
Hosted by: NA
Books for Challenge Completed: NA
Recommendation: 4.5 out of 5
Genre: Adult fairy tales, romance, fantasy
Memorable lines/quotes: NA
Alias Hook Blog Tour
July 3: Passages to the Past – review, excerpt, giveaway http://www.passagestothepast.com/
July 5: Harlequin Junkie – excerpt, interview, giveaway http://harlequinjunkie.com/
July 7: Upcoming4.me – review, giveaway, original essay, republishing 'The Story Behind ALIAS HOOK' http://upcoming4.me/
July 8: USA Today's Happy Ever After – round-up of Fairy Tales Revisited http://www.usatoday.com/blog/happyeverafter/
July 8: The Lit Bitch – excerpt, giveaway, review https://thelitbitch.com/
July 8: A Bookish Affair – review http://abookishaffair.blogspot.com/
July 9: No More Grumpy Bookseller – excerpt, giveaway http://nomoregrumpybookseller.blogspot.com/
July 10: No More Grumpy Bookseller – review http://nomoregrumpybookseller.blogspot.com/
July 11: Reading Frenzy – interview, giveaway http://thereadingfrenzy.blogspot.com/
July 14: She Reads – Picture This – guest post http://www.shereads.org/
July 14: Gone Pecan – excerpt, giveaway, review http://gonepecanla.wordpress.com/
July 15: A Bookish Affair – interview, giveaway http://abookishaffair.blogspot.com/
July 16: Literary, etc. – excerpt, interview, giveaway http://literaryetc.com/
July 17: Let Them Read Books – excerpt, giveaway http://letthemreadbooks.blogspot.com/
July 18: Let Them Read Books – review http://letthemreadbooks.blogspot.com/
July 19: Cheryl's Book Nook – review, excerpt, interview, giveaway http://cherylsbooknook.blogspot.com/
July 21: Mary Gramlich – review, excerpt, interview, giveaway http://marygramlich.blogspot.com/
July 22: Cocktails & Books – review, interview, giveaway http://www.cocktailsandbooks.com/
July 23: My Friends are Fiction – review, interview, giveaway http://www.myfriendsarefiction.com/
July 24: Reading the End – review, giveaway http://readingtheend.com/
July 28: Reading the Past – interview http://readingthepast.blogspot.com/
July 29: Dark Faerie Tales – review, giveaway http://darkfaerietales.com/