I've read two of Genevieve Graham's novels and have been exceptionally impressed by her writing ability as well as her vision. She tends to look for untapped locations and periods in history to create her novels and I love that.
She's a Canadian writer and many of her books are set in Canada. Her latest book AT THE MOUNTAIN'S EDGE (due for release in April 2019) is no exception. Just the title makes me want to read this one and throw in love during the Klondike Gold Rush and I'm totally interested in hearing more about this book!
I am thrilled to be able to share this stunning new cover design with you! I love the elegance and simplicity of her cover designs. I can easily pick out a book by her because of the colors and how the text is displayed.
If you haven't discovered her books then you are missing out!
From bestselling author Genevieve Graham comes a sweeping new historical novel of love, tragedy, and redemption set during the height of the Klondike Gold Rush.
In 1897, the discovery of gold in the desolate reaches of the Yukon has the world abuzz with excitement, and thousands of prospectors swarm to the north seeking riches the likes of which have never been seen before.
For Liza Peterson and her family, the gold rush is a chance for them to make a fortune by moving their general store business from Vancouver to Dawson City, the only established town in the Yukon. For Constable Ben Turner, a recent recruit of the North-West Mounted Police, upholding the law in a place overrun with guns, liquor, prostitutes, and thieves is an opportunity to escape a dark past and become the man of integrity he has always wanted to be. But the long, difficult journey over icy mountain passes and whitewater rapids is much more treacherous than Liza or Ben imagined, and neither is completely prepared for the forbidding north.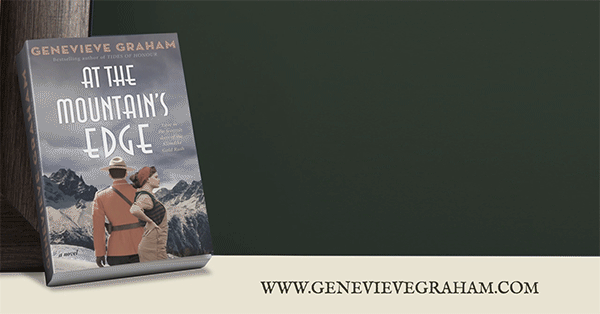 As Liza's family nears the mountain's peak, a catastrophe strikes with fatal consequences, and not even the NWMP can help. Alone and desperate, Liza finally reaches Dawson City, only to find herself in a different kind of peril. Meanwhile, Ben, wracked with guilt over the accident on the trail, sees the chance to make things right. But just as love begins to grow, new dangers arise, threatening to separate the couple forever.
Inspired by history as rich as the Klondike's gold, At the Mountain's Edge is an epic tale of romance and adventure about two people who must let go of the past not only to be together, but also to survive.
For more info see the summary and links to add to your TBR list here! Or you an also visit her newly designed and updated website by clicking here.