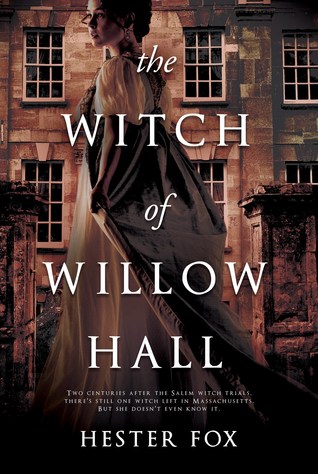 This book has been all over my social media this October. With the word 'witch' in the title, its hardly a surprise that it would be trending throughout the most 'haunted' month of the year.
Sometimes with books that receive so much hype, it's hard to decide if it's worth the read or not. I was intrigued by the combination of historical fiction and fantasy/paranormal.
The early nineteenth century isn't really my favorite period, but I was interested enough in the mixture of genres that I was eager to read this one and find out of the hype was indeed worth it.
New Oldbury, 1821
In the wake of a scandal, the Montrose family and their three daughters—Catherine, Lydia, and Emeline—flee Boston for their new country home, Willow Hall. The estate seems sleepy and idyllic. But a subtle menace creeps into the atmosphere, remnants of a dark history that call to Lydia, and to the youngest, Emeline.
All three daughters will be irrevocably changed by what follows, but none more than Lydia, who must draw on a power she never knew she possessed if she wants to protect those she loves. For Willow Hall's secrets will rise, in the end (summary from Goodreads).
I was all geared up for this novel to be a little more like A Discovery of Witches…..more upbeat and light hearted if that makes sense. What I got was an atmospheric, spooky, and creepy novel that was actually very fitting for Halloween. I think that's what surprised me the most, I love books that are moody and create a sense of foreboding throughout the novel. And this book had that in spades.
This novel has been marketed to fans of Simone St James (who I love by the way) and I would say Fox does have a similar style—-there is a spooky/suspenseful piece with a little romance and a lot of unsettling gothic ness about the story. I liked the romance and thought it struck a nice balance throughout the book. It was there without becoming the central plot.
Some other reviewers complained that this was basically Pride and Prejudice with witches—-implying that the romance eclipsed the witchy parts—-but for me I thought it was balanced ok. I went in thinking it was going to be more romance and instead it was more gothic and spooky so for me the romance was a nice touch but I was more surprised by the atmosphere because I wasn't expecting it.
While there was a lot of atmospheric build up and some romance, there isn't as much action in this book as I was expecting, or perhaps have come to expect from other witchy novels. While I still found a lot to enjoy, I just felt like this book moved a little more slowly that I had hoped. I still read it relatively quickly, but there were parts in the second half that drug a little for me.
So did this book live up to the hype for me? I would say yes. It was a solid story that fit right in to the Halloween spirit. It had a mystery, romance, some paranormal activity, and a moody feel. Fox writes with intense details and an eeriness I wasn't expecting. While this is the perfect Halloween book, it could easily be read at any time during the year. I think readers will find this genre merging novel will provide spooky chills and haunting romance any time of year!
Challenge/Book Summary:
Book: The Witch of Willow Hall by Hester Fox 
Review copy provided by: Publisher/Author in exchange for an honest review, all opinions are my own
Recommendation: 4 out of 5
Genre: historical fiction, romance, pararomance, paranormal
Memorable lines/quotes