Ilaria Bernardini is a well known writer in Italy and has eight novels under her belt there including Faremo Foresta ("We Will Grow a Forest") which was long-listed for Italy's prestigious Strega Prize. She has been profiled by Vogue Italia and is a regular contributor for Rolling Stone.
Her US release, The Portrait, has been identified as Bustle's most anticipated new releases. It joins the ranks of some of the most buzz worthy books of 2021 so far! It is already winning praise across Europe and in the U.K. and obviously making a buzz here in the US. It sounds like an emotional novel full of tension and heart.
I am so excited to be sharing a bit about this novel with you guys today. I haven't read a ton of books like this, but it sounds like it has so much potential and with an experienced writer such as Bernardini at the keys, it is sure to be a moving novel! The book is out now and ready to be devoured and enjoyed by US audiences immediately! Don't miss this exciting new novel!
Summary
The Portrait is an ambiguous, electrifying story of a lover, a wife, and the man they have in common.The Portrait tells the story of an internationally renowned writer, Valeria Costas, who has dedicated her life to her work and to her secret lover, Martìn Acla, a prominent businessman. When his sudden stroke makes headlines, her world implodes. Desperate to find a way to be present during her lover's final days, Valeria commissions his artist wife, Isla, to paint her portrait –insinuating herself into Martìn's family and home. While the man these two women share –husband, father, lover –lies in a coma, Valeria and Isla remain poised on the brink, transfixed by one another. In the unique intimacy that arises between artist and sitter, the two women reveal truths, fragilities and strengths. But does Isla know the truth about Valeria and Martin? And what secrets does Isla harbor? Amidst their own private turmoil, the portrait takes shape alongside our understanding of these complex and extraordinary women. In the vein of Elena Ferrante's Neapolitan Novels, The Portrait is in an unforgettable, breathless tale of deception and mystery that captivates until the very end.
Advanced Praise
"Electric. A wildly astute plunge into the depths of love, rivalry, betrayal and the power of women."
– Bill Clegg
"A delicious final revelation… adds poignancy to Bernardini's portrayal of these women's reckoning with love and loss. This engrossing outing will impress and surprise readers."
"The Portrait is a meditative, illuminating novel that pushes the boundaries of love and art."
–Foreword, Starred Review
About the Author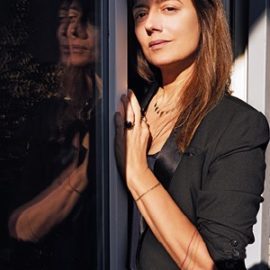 Ilaria Bernardini is a prolific talent in Italy, where she has published eight novels, including Faremo Foresta ("We Will Grow a Forest") which was long listed for Italy's prestigious Strega Prize. The Portrait has also been long listed for the Strega Prize, nominated by Academy Award winning director Paolo Sorrentino ("The Great Beauty"). She is a Vogue Italia columnist and regular contributor for Rolling Stone. Ilaria also co-wrote the late renowned director Bernardo Bertolucci's last film, The Echo Chamber. She splits her time between London and Milan.
WHERE TO BUY (AFFILIATE LINKS)