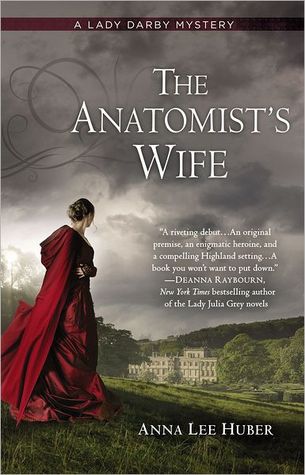 After reading Anne Lee Huber's novel Secrets in the Mist, I realized how desperate I was for another Gothic romance novel. I wasn't really up for a murder mystery but everyone raved about Huber's Lady Darby mysteries so I thought I would try out her well known mysteries that boast Gothic elements and romance.
The Anatomist's Wife was on my radar years ago when it released and I recall trying desperately to win a copy when it was published. I obviously didn't win a copy, but I did try very aggressively for days. Then of course I moved on to some other novels only to have this one resurface again on my radar.
Scotland, 1830. Following the death of her husband, Lady Darby has taken refuge at her sister's estate, finding solace in her passion for painting. But when her hosts throw a house party for the cream of London society, Kiera is unable to hide from the ire of those who believe her to be as unnatural as her husband, an anatomist who used her artistic talents to suit his own macabre purposes.
Kiera wants to put her past aside, but when one of the house guests is murdered, her brother-in-law asks her to utilize her knowledge of human anatomy to aid the insufferable Sebastian Gage–a fellow guest with some experience as an inquiry agent. While Gage is clearly more competent than she first assumed, Kiera isn't about to let her guard down as accusations and rumors swirl. (more…)