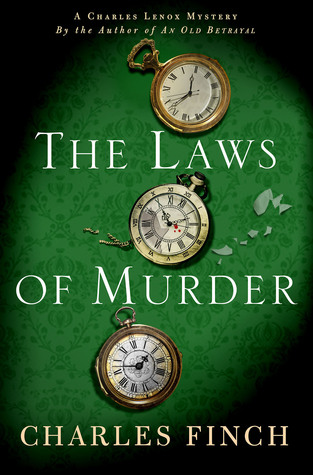 Charles Lenox has just given up his Parliament seat to pursue his dream….running his own full time detective agency.
He has high hopes for this new agency. It's essentially the first of its kind and with all the assistance he has provided to Scotland Yard over the years, surely the referrals will come.
Lenox and his colleagues have let a building and are currently taking new clients, things are looking promising. But while the others are bringing in steady business….Lenox is not.
What happened to all the potential referrals from the Yard and his friends within the agency?
Well,  it appears someone is trying to sabotage Lenox's new agency. One day the great mystery is answered–Inspector Jenkins, Lenox's long time friend, is quoted in the paper denouncing the agency, Lenox is crushed and business comes to a grinding halt.
While dealing with the decrease in clients and his dejected colleagues, Lenox is left wondering if this was in fact the right choice. Suddenly things start looking up…..the Yard shows up asking for Lenox's help and will pay his fee, no expense is to be spared. Clearly it's a high profile case, but Lenox is about to discover how high profile…..he is to investigate Inspector Jenkins murder.
Inspector Jenkins left specific instructions for Inspector Nicholson to find Lenox should anything happen to him and give him all his case file, but the files are now missing.
With few clues and no files to aid him in his search, Lenox must solve the murder the old fashion way…..pounding the pavement, interviewing witnesses, looking for clues, and making connections. When a second murder happens, it only further complicates his case leaving Lenox wondering if the two murders are related or simply a coincidence.
I am a big fan of this series. I have read the first four books and would have kept reading the next ones but I had to wait for the 5th book to come out and when it finally did, I couldn't work it into my reading schedule. However, when this one came up for review I jumped on it.
Though I have missed the last three books, I didn't feel like I really missed out on a whole lot of the story. One of the things I like most about this series is the focus is really on the mystery rather than the personal lives of the characters. Sure we get to know all of the main people and we get snippets of their lives….enough that we identify with them and like them, but it's not the focus. The mystery is where it's at.
This has been the hallmark of most of the books in the series, with the exception of book three which had a large focus on the characters' personal lives, so I am glad to see that Finch went back to his original formula in the fourth book and continued with it.
The mystery was great. I was really trying to piece it all together with the few clues that were provided and with the red herrings added in it kept me guessing. There were some people that I suspected right away but I wasn't quite sure how they were going to fit in to the story or what role they played in the murder.
As with many of the Lenox novels, I love how unlikely people come together in the mysteries. There is always an interesting mix of people from all walks of life….lords, ladies, service staff, police officers, newspaper writers, wealthy property owners, minor 'royalty', politicians, doctors…..all kinds of people and they all play a part somehow in the story. For me the versatility of the characters really drives the series, it's like you never know what you are going to get or from what walk of like the murderer is going to come from.
While this series has been consistently good, I personally feel like the books are getting better and better. The first novels were good, but the more I read, the better and more complex they seem to get.
And…..I can't say how much I love the cover designs! Every. Single. One. They are awesome and eye catching….simple but eye catching. I love them all!
If you are looking for a good Sherlock Holmes style mystery, then this is the series for you! Finch knows his Victorian history so readers will feel authenticity in the historic parts of the book. Historic figures are in their proper roles and characters, plus Finch has a clear understanding of the British aristocracy…..add that to his knowledge of detective novels and you have the recipe for a perfect charming British mystery series!
Challenge/Book Summary:
Book: The Laws of Murder (Charles Lenox #8) by Charles Finch
Paperback, 304 pages

Expected publication: November 11th 2014 by Minotaur Books

ISBN 1250051304

(ISBN13: 9781250051301)

Review copy provided by: Publisher in exchange for an honest review
This book counts toward: NA
Hosted by: NA
Books for Challenge Completed: NA
Recommendation: 4 out of 5
Genre: historic fiction, Victorian lit, detective novel, mystery, gaslight fiction
Memorable lines/quotes: NA