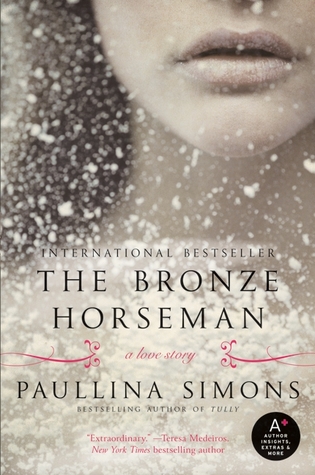 In Leningrad, life is about to change in a big way. Seventeen year old Tatiana, has known nothing but long summers full of ice cream and day dreams.
But all that changes when the declaration of war is announced. Germany has invaded Russian and they march toward Leningrad. Tatiana's parents send her to the store to buy all the food she can.
On her way to the store, Tatiana stops for an ice cream when she spots a soldier staring at her from across the street. The soldier, Alexander, gets on the same bus as Tatiana and rides with her all over the city, and then eventually back home.
When she returns home, she is eager to introduce her new friend to her family, but Alexander and her older sister, Dasha, already know each other…..quite well in fact. Dasha has been sneaking off each night to meet Alexander and claims she is in love with him.
Tatiana is crushed because she felt sure that her and Alexander had a connection….Alexander felt it too.
While the Germans advance further in to Russia, it becomes apparent that Leningrad is their target destination. Tensions rise in the city and it becomes clear that the Red Army will not be able to stop the Nazis.
Tatiana and Alexander have a tedious relationship. Tatiana is torn between the man she is attracted to and her loyalty to her sister. She knows loving Alexander is wrong because her sister loves him and worships the ground he walks on…..but how can she deny her own heart?
Suddenly, the Nazis are at the gates of Leningrad and the people of Leningrad plan to fight even if they aren't trained soldiers. Both sides become entrenched in siege style warfare. The food and supply lines are heavily bombed by the Nazis and little food is getting into the city.
Soon the entire city is shut off and struggling to survive….but they refuse to yield to the Nazis. Millions starve to death in the streets, cannibalism is a very real solution to the problem. Panic, desperation, fear, and violence are ruling the city.
In the middle of all this Tatiana is fighting to save her family and hide her true feelings for the love of her sister's life. This is a love story of epic proportions during one of the darkest hours of WWII and certainly one of the darkest hours of Leningrad itself.
Do you ever read a book that is exactly what you needed at the time? Like it was exactly what you needed to read at exactly the right moment? That is this book for me. I read it at a time when I just needed to read a tragically forbidden love story.
This book was absolutely stunning. It took me a long time to review it because it was so magical that I just couldn't put into words how wonderful it was.
I've had this book for a long time to read and I just haven't picked it up because I wasn't sure that I was ready for something so deep and involved. A friend of mine on Goodreads send me her glowing review of this book and as a result I moved it way up on my TBR list. All I found myself thinking as I was reading was….what took me so long to read this book?
I was in love with the novel from the beginning. While it was lengthy and dealt with some pretty heavy topics, I was completely engrossed. It was unlike anything I've read in a very long time.
This was one of those books where I was completely wrapped up in the story more than the characters. I was fascinated by the history of Leningrad. My interest in WWII is mostly the Western Front….I haven't read anything about the Eastern Front so this book was absolutely engrossing historically for me. I was glued to each page, devouring all the history!
The characters were engaging and interesting. I was initially concerned that I would have a hard time with Tatiana's character. She started out so young, naive, and impressionable that I honestly felt like….well she can only grow as a character. Which I guess is a good thing but I was worried that with so much of the book being written from her perspective that I would have a hard time identifying with her.
My reservations were completely unfounded. Tatiana was pure and full of goodness and I enjoyed watching her really grown into her own independently strong character. There were times when she just flat out annoyed me because she was so giving to others and stubbornly refused to say no, but overall I felt that she grew adequately and she still has a lot more growth potential for future books.
As for Alexander…..his character was more challenging for me. On one hand, I was completely in love with him. He was charming, romantic, and dashing. He easily stole my heart from the first meeting. But then on the other hand, he was controlling, jealous, and possessive. I had a hard time reconciling his anger and his moodiness at times. Sometimes I felt that it was appropriate for the situation while other times I felt that it was a complete overreaction and unnecessary. His anger bothered and annoyed me a lot throughout the book, so it's hard for me to say if I loved him like I loved Tatiana's character. I guess I will say this about his character….I was unexpectedly drawn to Alexander and he won my heart for now, but I will reserve final judgement for future books.
This story is rich and complex. There is so many great things to say about it that I just don't know where to begin. It's full of history, romance, tragedy, forbidden love, tormented heroes, innocence, war, and hope.
Yes it's a little heavy and lengthy, but the story is so consuming that I never felt bored or that the story lost momentum. It was moving on a number of levels, so be prepared for an emotional roller coaster about the loss of innocents, forbidden love, and war on an epic scale.
Challenge/Book Summary:
Book: The Bronze Horseman (The Bronze Horseman #1) by Paullina Simons
Kindle Edition, 912 pages

Published March 2009 by HarperCollins (first published 1997)

Review copy provided by: Personal Collection.
This book counts toward: NA
Hosted by: NA
Books for Challenge Completed: NA
Recommendation: 5 out of 5
Genre: Historic fiction, romance, war romance
Memorable lines/quotes: 
Sometimes things don't work out the way we hope do they? No matter how much we plan or how much we wish. True?

Please teach me how to hide what I never knew how to show.

She was too young to hide well what was in her heart but old enough to know that her heart was in her eyes.

Maybe that's what grown ups did. They kissed your breasts and then pretended it meant nothing. And if they could pretend really well, it meant they were really grown up.

How instant it was, desire. It was like a bomb exploding, fragmenting, and igniting all her nerve endings.

All great things worth having require great sacrifice worth giving.