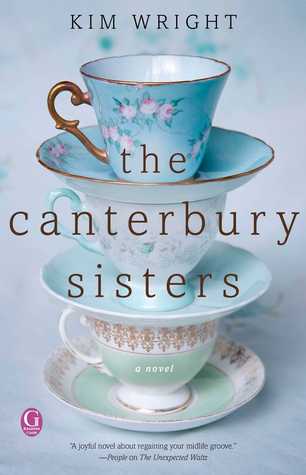 Che's life is literally hitting rock bottom. Her mom just died and her long time boyfriend just dumped her via letter for another woman. Right now her life absolutely, positively, sucks.
On the same day that she receives the break up letter, she also receives her mother's ashes with a last request from her mom….take her ashes to Canterbury.
Che had forgotten that she promised to take her mother to Canterbury, it was a trip they both planned to take together but never did. So now her mother's last wish is that they take that trip together.
Right now seems like as good of a time as any since se can't stand the thought of facing her now ex when he comes to clean out their apartment so she boards the first flight to England. Instead of taking a train directly to Canterbury from London, Che's mom wanted them to do a pilgrimage and follow the Canterbury trail which is a 60 mile walk from London.
So Che hires a private guide who will take Che alone on the trail from London to Canterbury where she can quickly spread dear old mom and be on her way back home before the week is over.
When she lands in London she learns that her guide has been taken ill and has since paired Che up with a group of women also making the pilgrimage walk to Canterbury known as The Broads Abroad.
She begrudgingly decides to meet these women at their tour it up spot in London and watched them from afar and ultimately decides to just join them even though she doesn't really want to be part of a group.
The next morning the group sets out for their walk and the group decides to tell stories about love just like the pilgrims in Chaucer's classic, The Canterbury Tales to pass the time on their way to Canterbury. Each woman's tale is quite different, some are true, some are fairy tales, some are funny, and some are sad but they are all poignant.
This novel was wonderful. I loved it. Wright tells this story with a very modern voice that is equally funny and serious at the same time. I loved Che, she was a tragic figure but she was also so funny in her perspective of things….she reminded me a lot of myself so I could easily laugh at her.
I thought the idea of the story was intriguing…..all these strangers sharing some of their most personal skeletons….it was very powerful and I immensely enjoyed reading each and every story of love.  thought Wright captured the essence of love and the tales we often tell ourselves. Wright showed each woman as realistic and intriguing……every woman who reads this story will find at least one character or story that she can identify with.
Each woman was a different age, from a different walk of life, with different 'love stories' to tell and each one left the reader with something to ponder. The women were supposed to choose which story was the most poignant once they arrived in Canterbury but I would have to say that each story was equally as important and moving but in different ways. To me there was no 'winner' which I liked.
The only thing that I didn't like was we never really got to hear Che's story. Yes I suppose the novel itself was her story, but I felt like there was such a build up to her tale that to not have her tell it was frustrating. That alone was the only thing that made me give this book a 4.5 star rating instead of a 5. I just felt like the novel was incomplete without her tale and I felt it was incomplete with her not attending the final dinner really. I felt like the final dinner was a loose end for some reason. Something about it seemed off to me, like the author wasn't quite sure what to do about the dinner situation.
I also wish the story was longer. The walk only took 6 days but I felt like 6 days wasn't quite enough for me. Even 8 days would have been better….I would say ideally at least 14 days would have seemed better. I wanted more detail in some of the women's stories and I think having spread it out over a a few more days would have left a greater impact for me, in some ways they all kind of ran together. Some were too short while others seemed too long and I felt like maybe the 6 day time constraint had something to do with it….just my own personal observation.
Having been to Canterbury this book captured all the awe and magic of the cathedral and the mystique of a pilgrimage….I want to go back to England and do this trail now!
Overall the way this book is constructed and how it unfolds worked well for me. I enjoyed the structure of the narrative and I loved how versatile each of the women were. Wright's story tell style was refreshing and modern and would appeal to not just younger audiences but all women a like. This is a superb novel about self discovery and would make for a great weekend read or beach read this summer!
Challenge/Book Summary:
Book: The Canterbury Sisters by Kim Wright 
Kindle Edition, 336 pages

Expected publication: May 19th 2015 by Gallery Books

Review copy provided by: Publisher in exchange for an honest review
This book counts toward: NA
Hosted by: NA
Books for Challenge Completed: NA
Recommendation: 4.5 out of 5
Genre: Women's Fiction, British lit, Chick lit
Memorable lines/quotes: 
Beautiful and tragic is such an appalling combination, the natural stuff of romances.

We worried about the little shit and we got bored and we compared ourselves to other women and that's when you start straight down the road to hell, you know. The minute you start comparing your life to someone else's.

Religion…is nothing more than the study of other people's experiences with God. But true spirituality is the opportunity to have your own experience with God.