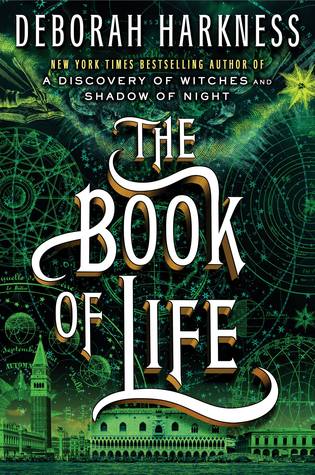 Diana and her vampire husband, Matthew, have returned from the 16th century and their home coming wasn't necessarily the most joyous experience.
After dealing with the loss of a close companion and friend, Diana and Matthew must face what the future holds and acquire the elusive book, Ashmole 782, also known as The Book of Life before it falls into the wrong hands.
What they don't expect is that one of Matthew's homicidal vampire children,Benjamin, stands between them and the book. If Matthew and Diana hope to defeat Benjamin they must rely on their comrades and some past enemies to do it.
They must stop Benjamin at all costs and sometimes that means going down different roads, join Diana and Matthew as they seperate to search for the missing pages of Ashmole 782, the book itself, and the cure for blood rage.
This book was the final installment in the trilogy but to me it felt unfinished. While I loved the book and the trilogy overall, I felt that the way the story ended left a lot of questions unanswered for me.
Without giving away too much, I wanted to know what happened to Gerbert. The way his story ended just wasn't 'complete' enough for me. It felt like a loose end and maybe could leave a door open for a 4th book?
I also felt like the book didn't answer some of my questions about Matthew and Diana….like will Diana ever become a vampire? Is she immortal too? Does the Book of Life have the ability to make Matthew human? I felt like Diana and Matthew's story was incomplete because it never really answered how they were going to spend 'forever' together. I needed more resolution in that aspect.
What about the twins? Were they both vampire and witch or was one a vampire and one a witch? What does that mean for them as they grow up? I really wanted to know more about the twins and what their future might look like.
The other loose end for me was Gallowglass's story. I loved that he was secretly in love with Diana. It made me love him so much more because he suffered in silence but I also wanted a happy ending for him. Maybe a woman of his own or something. I didn't feel like his story was 'over' for me. Was he just going to go on for eternity pining for his uncles woman or would he find someone of his own? I just felt like more needed to happen for him.
So to me there were just too many questions left for it to be the last in the series. I am hoping that maybe Harkness was leaving a few things unfinished intentionally so that there would be an option for later books and/or spin off books.
Half way through the book I was wondering when things were going to start wrapping up. Things didn't really start wrapping up for me until about 75% through the book so that was surprising. It almost felt like the book wrapped up too quick, I think a 4th book splitting some of the action up and adding a little to some of the other stories would have been a little better but overall though the book was really great.
I loved reading about the creature DNA and seeing lots of different characters come together to work on it, the science and history mixture was wonderful and so well presented that it almost seemed believable.
There was also a lot of action in this book which kept things moving and interesting along with some loved characters from previous books. I personally forgot some of the minor characters from book one so some of the beginning of the book was a little disorientating when a lot of the characters started re-appearing but it was wonderful to get reacquainted with them all over again.
I am so hoping for a spin off series for Gallowglass or for a fourth book set later on in Matthew and Diana's lives to answer some of the questions about their relationship and the twins etc.
In general I was satisfied with how the book ended and was more than happy with how the series evolved, but I just wanted more. Perhaps it's because I loved the books so much that I was left hoping more would come because Harkness has an amazing gift for story telling!
Challenge/Book Summary:
Book: The Book of Life (All Soul's Trilogy #3) by Deborah Harkness
Paperback, 561 pages

Published July 15th 2014 by Viking Adult (first published July 1st 2014)

ISBN 0670025593

(ISBN13: 9780670025596)

Review copy provided by: Publisher/Author in exchange for an honest review
This book counts toward: NA
Hosted by: NA
Books for Challenge Completed: NA
Recommendation: 4 out of 5
Genre: Fantasy, witch lit, vampire lit, romance, pararomance
Memorable lines/quotes: NA