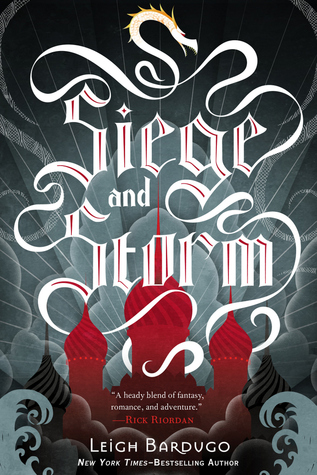 Alina and Mal have been forced into hiding across the True Sea. Alina is haunted by her memories of what happened on the Fold while Mal is eager to put as much distance between the girl he loves and the Darkling, as possible.
The Darkling is now more powerful than ever and has a plan that will test the boundaries of the world as they know it unless Mal and Alina can find a way to destroy him.
While she can't be sure….Alina senses that if she brings all three amplifiers together, she will hopefully be powerful enough to defeat him. But how does one find ancient, mythical items?
The Darkling quickly discovers Mal and Alina on the True Sea but after a daring escape, they find themselves heavy one Ravka prince, Nikolai.
With his help, Alina and Mal return to the country that they have been fleeing with the hope that she will find a way to stop the Darkling. But her power continues to grow and the bond between Alina and the Darkling strengthens and it pushes her further and further away from Mal.
At some point she will have to choose between Ravka, her power, and Mal….the Sun Summoner can't have everything.
This book was a little dull for me. The series and premise overall is enchanting and wonderful, but the pace of this book was much slower than the first.
I don' know if that's because I read the first book so long ago or what, but for some reason I had a hard time getting into this one from the start. I kept hoping things would get more exciting as the book went on but they just didn't.
I just felt like a lot of time was spent on creating all this build up and looking for the amplifiers but in the end, it just didn't deliver on all that build up.
In the first book I felt like Alina had so much potential to develop into a strong main character but in this book she fell short. I felt like she did a lot of complaining about her situation and she doesn't believe in her power like the people do…..she doesn't have hope so why should they? Why should the reader love her if she doesn't love herself? So I struggled with that a bit.
Her ability to see that her and Mal were growing apart was also challenging. It was clear to the reader that they were just not going to get along…..they wanted two different things and they both had changed so much that they out grew their relationship….I felt like Alina failed to realize that…..Mal did but Alina was still holding on to this young ideal, and that bothered me. Not to mention she is always so unsure of herself and her powers….I could accept that in the first book because she is just becoming Grisha, but in the second book I expected her to be more self aware and strong.
As for Mal, he is a great brooding and moody love interest but I feel like he's much more mature than Alina. Alina always seems to ponder why Mal is interested in her and to be perfectly honest I was wondering the same thing. She just seems insecure and immature while Mal is a strong leader who knows who he is. He seems stable and heroic which I can appreciate. While he does become a little self destructive he doesn't ever ask Alina to be something she isn't and he refuses to become someone that he isn't either. He knows his strengths and weaknesses.
While I struggled with Alina and the pace of the book I still felt invested in the Grisha world and some of the characters. As I mentioned with the first book, the Darkling is still the most intriguing and complex character. I need more of him and need to know more about him…..while he's still the villain, I feel like he's still the right choice for Alina, at least at this point…..like calls to like.
The character that saved the books for me was Nikolai. He was confident, strong, cocky, charming, and funny. I loved him and I am eager to see what happens with him in the third book. I am hoping that him and Alina end up together, but if they don't then I hope he has a spin off series because he is such a well drawn character and I'm intrigued by him.
I am eager to see if things pick up in the third book. As I said before I am invested in this series because I love the world and the concept behind the Grisha. This series just has so much potential and I was disappointed with the second book, but I am willing to tough it out and read the next and final book to see what happens to the characters that I have come to know in the last two books. The setting and world alone saved this book for me.
Challenge/Book Summary:
Book: https://www.goodreads.com/book/show/14061955-siege-and-storm
Kindle edition, 435 pages

Published June 4th 2013 by Henry Holt and Co.

Review copy provided by: Personal Collection
This book counts toward: NA
Hosted by: NA
Books for Challenge Completed: NA
Recommendation: 3 out of 5
Genre: YA, high fantasy, fantasy
Memorable lines/quotes:
Weakness is a guise. Wear it when they need to know you're human but never when you feel it.

Pauper or prince, every man can be bought.