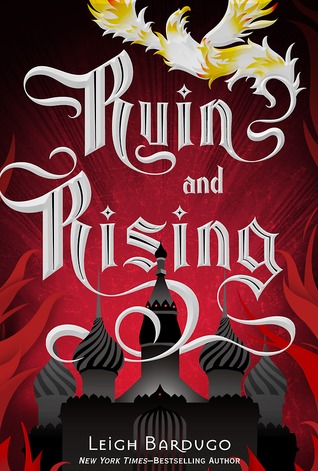 Ravka has fallen and now the Darkling rules and the people look to Alina, the Sun Summoner for liberation.
Alina has taken refuge in the tunnels below the city where the Apparat and his zealots treat her like a saint. But deep below the ground Alina is weakened. She can't summons her power and she continues to grow weaker.
After months below ground, her loyal friends help free her and they continue on their quest to bring together the three amplifiers. Without all three amplifiers they don't stand a chance against the Darkling.
In order to gain an upper hand, Alina must learn as much about the Darklings past as she can, but his secrets will forever change her. She must use the bond between them to understand not just his power but hers as well. But through that bond, Alina grows closer and closer to the Darkling.
The last amplifier is the elusive fire bird…..she must find it and with Mal's tracking skills she should be able to find it quickly. But the fire bird might actually be closer than any of them originally thought. But will Alina be able to pay the sacrifice that obtaining the fire bird requires?
The search for the fire bird will test Alina in ways she never even thought possible and it will change her and the lives of her followers forever.
I am feeling a little disappointed in this series. The first book started off so promising, the second book was a bit of a let down, but I expected this book to pick up more especially considering how the second book ended, but I was wrong. For me this book was just as slow as the second book. Nothing really happened until the last 30% of the book.
I still struggled just as much with Alina in this book as I did the second book. As I said before, in the first book I expected her to be a little self doubting and insecure but by now she should have gone through a complete transformation and evolved into this strong leader but I always felt like she was doubting herself and she never fully realized the influence and power she had. She showed hints of maturity in parts of the book but overall she just didn't become the strong character that I felt she could have been.
Starting out, I wanted to give this book two stars but I felt like that would be unfair to the series, because while I might not have enjoyed the last two books as much as I expected, I did enjoy the setting and the world. The concept of the Grisha is really intriguing and wonderfully creative but Alina just didn't deliver for me.
I did like Alina's philosophical musings throughout the series…..I love elements like that so that was a plus for me. But I just wanted her philosophical musings to translate into something more in her character rather than just thoughts she was having….I wanted her to fully realize those thoughts and manifest them within herself.
The pace of the book was off for me too. There was so much build up and nothing really happened. There wasn't really this epic show down that I was expecting between Alina and the Darkling…..it just sort of ended. I don't know, I guess I was just expecting more. There was just a lot of times when the group was looking for the fire bird and musing about how to defeat the Darkling and then more wandering the country side and wondering what would happen. I just wanted more action or more romance…..more something.
So what saved this book from a 2 star rating……the ending. The ending was so fitting and worked so well. I don't want to spoil it for anyone who wants to read the series but the ending was PERFECT. I was 100% satisfied with how things came together…..my issues were more with how they got to the ending than anything else. The ending just fit so perfectly for the characters and the world itself, so if you are going to read this series or maybe you are struggling with the series over all and are wondering if you should continue……YES continue just because the ending is so perfect.
Challenge/Book Summary:
Book:Ruin and Rising (The Grisha #3) by 
Kindle Edition, 422 pages

Published June 17th 2014 by Henry Holt and Co.

Review copy provided by: Personal Collection
This book counts toward: NA
Hosted by: NA
Books for Challenge Completed: NA
Recommendation: 3 out of 5
Genre: YA, high fantasy, fantasy
Memorable lines/quotes:
The problem with wanting is it makes us weak.

Suffering is cheap as clay and twice as common. What matters is what each man makes of it.

You live in a single moment. I live in a thousand.