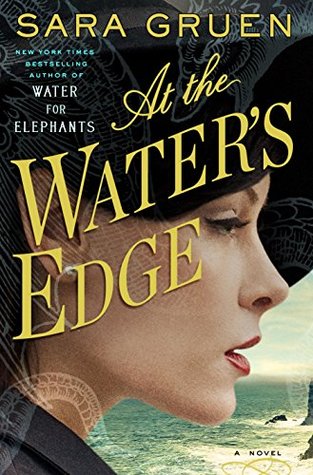 Maddie has not idea that New Years Eve 1942 is going to be a day where everything in her life changes The belle os the ball and Philadelphia society is married to Ellis and lives a life of shelter and privilege. While there is a war raging across the pond, Maddie and her husband Ellis aren't really that in touch with it.
Ellis and his best friend Hank should be enlisting in the war like all the other men their age but they both have medical conditions and aren't allowed to join. Ellis's father is beyond ashamed of his son's inability to enlist and reminds Ellis of it on a regular basis.
After an embarrassing episode at the New Years Eve party, Ellis and Maddie are cut off from Ellis's family and decide to board a supply boat to Scotland where they will search for the infamous Loch Ness monster.
Hank decides to join Ellis and Maddie in hopes that all of them will gain fame, fortune, and above all that Ellis will get back on his father's good graces.
When they arrive in Scotland, it's very apparent that the war is going to be something they can no longer ignore. Petrol, electricity, and food are all limited and the nightly blackouts and threatening air raids are all very real and very foreign to the visiting Americans.
Ellis and Hank immediately start searching for the monster and they leave Maddie behind to fend for herself. As the story goes on, Maddie is forced to open her eyes not just to the war but to her own life and heart.
After reading Water for Elephants, I was a little neutral on Gruen's novels. I had her style pegged as a gritty romance with circus style magical realism mixed in. And I got exactly what I thought I was going to get with this latest book. That men and villains in her books always seem to have this grit about them……and this book had that. Ellis was clearly struggling with alcohol and drug problems and Maddie was hard to like at first for me because she was kind of this naive party girl who drank just as much as Ellis but it was clear she didn't have a dependency.
It took me a while to really connect with Maddie but ultimately as she became more aware of what 'real life' was like and what was happening around her, I liked her more and began to sympathize. Some of the other characters like Anna and Meg were also a little hard for me to connect to, but they were good role models and inspiration for Maddie's character and thus appropriately placed in the story.
I liked the Loch Ness monster hunt angle. I thought it added something new and different to the plot. The whole Loch Ness monster is built on legend and has this kind of mystical element of 'ancient sea monsters' to it. It's appropriately placed in Scotland as Scotland is also rip with magical lore and legend, and having the story set there with the monster search added a lot of atmosphere to the novel for me.
Where the book was weak for me was the romance. The romance came too late in the story for me. There was not enough build up or sexual tension to really justify the romance that ensued. I didn't feel like I got to know Angus at all and he just seemed like a rough sketch of a character, rather than a fully developed love interest for Maddie.
There was such a focus on Maddie's crumbling marriage and social awakening that I could almost have done without the romance and had the story be about a woman coming into her own and becoming strong and independent from her husband. Or maybe having the romance truly be the focus for her character early on in the story. I guess bottom line, I expected more of a passionate romance and a deeper connection to the main character.
That said, I was still invested in the story and laughed out loud, particularly later on when Maddie and her friends were discussing ways for her to get out of her marriage. The way things deteriorated between Ellis and Maddie was engaging and interesting and I thought that alone held my interest more than anything.
Overall, I wasn't completely blown away by this book but I felt like I got what I was expecting when it came to Gruen's writing style and ultimately, I finished the book and was glad that I did….I loved the monster hunt angle set in WWII and I loved seeing Maddie awaken from a privileged fog and see the real world for what it was, those were the things that kept me reading and engaged in this book.
Challenge/Book Summary:
Book: At The Water's Edge by Sara Gruen
Kindle Edition, 368 pages

Published March 31st 2015 by Spiegel & Grau

Review copy provided by: Publisher/Author in exchange for an honest review.
This book counts toward: NA
Hosted by: NA
Books for Challenge Completed: NA
Recommendation: 3 out of 5
Genre: Historical fiction, romance, women's fiction
Memorable lines/quotes: