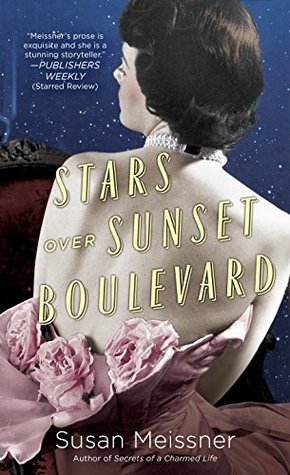 This is a novel that I liked so much more than I expected to. I love when books do that!
I've read a ton of books this year that have been set in the 1920s and 1930s eras, some with the glitz and glamour of old Hollywood as a backdrop. So many books in fact that I am getting a little tired of the era.
So when I picked up this book, I wasn't sure what to expect and how I was going to feel about it. As soon as I started the book and found out the backdrop was not just old Hollywood but also had hints of the movie Gone with the Wind, I was immediately caught up in this story!
Flash forward to modern day Los Angeles. When an iconic hat worn by Scarlett O'Hara in Gone With the Wind  ends up in Christine McAllister's vintage clothing boutique by mistake, her efforts to return it to its owner take her on a journey more enchanting than any classic movie…
The books then takes us back to Los Angeles, 1938.  Violet Mayfield sets out to reinvent herself in Hollywood after her  dream of becoming a wife and mother falls apart, and lands a job on the film-set of Gone With the Wind.
There, she meets enigmatic Audrey Duvall, a once-rising film star who is now a fellow secretary. Audrey's zest for life and their adventures together among Hollywood's glitterati enthrall Violet…until each woman's deepest desires collide.
What Audrey and Violet are willing to risk, for themselves and for each other, to ensure their own happy endings will shape their friendship, and their lives, far into the future.
One of the things that I thought worked really really well in this novel was the relationship between Violet and Audrey playing out with the movie as a backdrop to add an additional dramatic flare! Gone with the Wind is one of my all time favorite novels and Scarlett O'Hara one of my favorite heroines so this added element of dramatics worked really well for me as a reader and I enjoyed seeing how the relationship between Violet and Audrey changed and evolved with the whole movie in the background.
Each of the main characters had their own set of issues and they each struggled with overcoming difficult times or events in their lives. Though Violet and Audrey were vastly different, it was fun watching how their friendship helped each of them overcome personal obstacles and find a balance of sorts.
This was a great book for fans of women's lit and books about friendship and sisterhood. I really enjoyed it much more than I anticipated. Not going to lie this was an emotional book so if you cry easily at books then I would have a box of tissues ready! I did find some parts to be real tear jerkers!
Both Violet and Audrey had equal time in the story which was awesome, sometimes it's hard when you have two main characters…..who gets the most 'page time' or 'story time'. In this book I thought both characters shared the spotlight well and I enjoyed learning about each women. In that same vein, I also thought the balance between the modern day and historic periods were well done. The time periods were split and balanced well within the story.
The only thing I struggled with in this novel was the amount of locations that the author talked about throughout the story. At first this was a little disorientating along with the some of Meissner's prose took me a few pages to get used to. Also if you are looking for a book that's historical fiction, I would say this is more light on the historical side. While a lot of it is set in a historical period, I would classify this one as more of a women's literature novel so if you are looking for pure historical fiction then as long as you are aware that it's more of a women's lit novel, then I think this is a very enjoyable read but if you are expecting something else you might be a little disappointed.
The last thing I want to comment on is the stunning cover. I love the glamorous dress and mysterious looking woman on the cover. It screams old Hollywood…add in the stars in the background and you have a winning cover! I am in love with it. This cover alone makes me want to read this book…..cover lust!
Challenge/Book Summary:
Book: Stars Over Sunset Boulevard by Susan Meissner
Paperback, 400 pages

Published January 5th 2016 by NAL

Review copy provided by: Publisher in exchange for an honest review.
This book counts toward: NA
Hosted by: NA
Books for Challenge Completed: NA
Recommendation: 4 out of 5
Genre: Women's lit, historical fiction
Memorable lines/quotes: NA
What readers are saying . . .
"Susan Meissner deftly casts a fascinating friendship between two complex women against a glittering 1930s Hollywood backdrop. You will love this book for its very human characters and for its inside look at one of the greatest movies ever made."
Marisa de los Santos, New York Times bestselling author of Belong To Me
"Beautifully simple yet impactful."
"A lovely, well-crafted story that peeks at a fascinating moment in cinematic history and examines the power and vulnerability of sincere friendship."
About the Author
Susan Meissner is a multi-published author, speaker and writing workshop leader with a background in community journalism. Her novels include A Fall of Marigolds, named by Booklist's Top Ten women's fiction titles for 2014, and The Shape of Mercy, named by Publishers Weekly as one of the 100 Best Novels of 2008. She is also a RITA finalist, and Christy Award winner.
A California native, she attended Point Loma Nazarene University. Susan is a pastor's wife and a mother of four young adults. When she's not working on a novel, she writes small group curriculum for her San Diego church. She is also a writing workshop volunteer for Words Alive, a San Diego non-profit dedicated to helping at-risk youth foster a love for reading and writing.
Website:        susanmeissner.com
Facebook:      www.facebook.com/susan.meissner
Twitter:          @SusanMeissner
Instagram:     soozmeissner
Goodreads:    www.goodreads.com/author/show/60390.Susan_Meissner
Amazon:
http://www.amazon.com/gp/product/0451475992/ref=s9_simh_gw_g14_i2_r?pf_rd_m=ATVPDKIKX0DER&pf_rd_s=desktop-1&pf_rd_r=1YFZV1KH8YBMXZ4WJ00N&pf_rd_t=36701&pf_rd_p=2079475242&pf_rd_i=desktop
Barnes & Noble:
http://www.barnesandnoble.com/w/stars-over-sunset-boulevard-susan-meissner/1121731447?ean=9780451475992
Publicity Contact:
Suzy Missirlian
@Suzy4PR