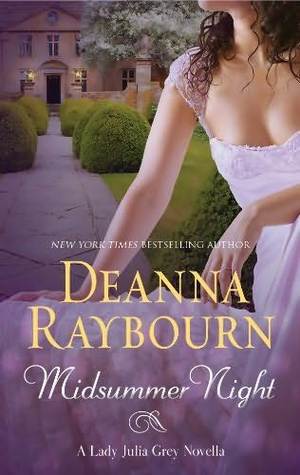 So I rarely do anything by halves…..especially when it comes to reading! Though I tend to shy away from novellas because I always feel they are incomplete or just fluff but something compelled me to read this Lady Julia novella.
On one hand, it was simply fluff but on the other hand I wanted to read in detail about Lady Julia and Brisbane's wedding so I spent the $1.99 and bought the novella!
This 'mystery' basically covers the days leading up to the wedding with a little case of hidden identity thrown in. Lady Julia wants nothing more than to marry her friend and sort of colleague, Nicholas Brisbane.
The wedding is happening at her father's estate on Midsummer Night. All of English society is going to be there, even the gypsies have made camp on her father's land hoping for an invitation to the nuptials.
Even a former villain makes an appearance hoping to score big with all the wealth staying at the Abbey.
Julia and Brisbane can barely keep their hands off each other but with the wedding only a couple of days away and the prying eyes of Julia's family and the local vicar, they must observe the proprieties.
The villain might have fooled all the guests in the March house but Julia knows the villain well and confronts said individual…..without her future husband's knowledge. Will Brisbane look the other way or will he take it as an affront before their wedding?
So was this novella all fluff? Yes. Was it still fun to read? Yes. Could I have done without it in the grande scheme of the series? Yes but I wanted to soak up all the little details of the wedding and it was only 54 pages so hardly a daunting read.
I would have hoped that there were more wedding details, maybe even a little more salacious details of the wedding night but overall it was a fun read that satisfied the readers curiosity when it came to what happened after the last book, Silent on the Moor.
That said I was just kind of lukewarm about this novella. It did satisfy me but yet I hoped that it would have been a bit longer and had more romance in it, which was the reason I bought the novella after all.
While it was a little bland and wanting, I liked that previous characters made an appearance and it was kind of a nice break before launching into the next full length book.
This novella also might be a nice segway into the series for people who haven't read the books……so long as they don't mind spoilers. I mean this novella kind of spoils the whole romance thing for new readers but it is at least a short little taste of what the series as a whole holds.
At any rate, it was ok. I will probably read the other novellas in this series because I just feel like the novella make the series a little more complete in this instance.
Challenge/Book Summary:
Book: Midsummer Night (Lady Julia Grey #3.5) by Deanna Raybourn
Kindle Edition, 56 pages

Published November 1st 2013 by Harlequin MIRA (first published January 1st 2013)

ASIN B00DWRAKGC

Review copy provided by: Personal collection
This book counts toward: NA
Hosted by: NA
Books for Challenge Completed: NA
Recommendation: 3 out of 5
Genre: historical fiction, Victorian lit, mystery, gaslight fiction, detective novel
Memorable lines/quotes: NA