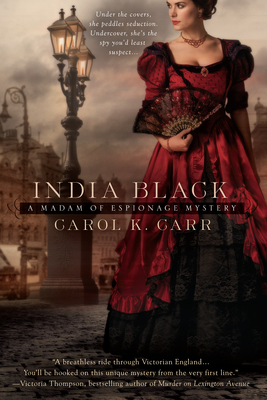 This book has randomly surfaced on my Goodreads recommendations page and Twitter feed for the last few years now.
I personally love the cover and thought it sounded like an intriguing read. Well recently I saw someone else on Twitter reading it and I suddenly felt like it was time to check it out.
When Sir Archibald Latham of the War Office dies from a heart attack while visiting her brothel, Madam India Black is unexpectedly thrust into a deadly game between Russian and British agents who are seeking the military secrets Latham carried.
Blackmailed into recovering the missing documents by the British spy known as French, India finds herself dodging Russian agents-and the attraction she starts to feel for the handsome conspirator (summary from Goodreads).
So I guess the whole 'deadly game' bit had me thinking this was going to be more of a murder mystery but it wasn't. This was more of a heist than a murder mystery by far. The whole novel is spent trying to track down a mysterious black case of English documents rather then trying to solve a murder.
It was much different than what I was expecting. I was actually kind of disappointed that this was all that happened throughout the novel though.
There wasn't even any romance really….Sure India thought French was attractive and there were hints at a possible romance to come in later books but it wasn't enough to keep me interested in them as a couple—now or in future books.
I can honestly say I just wasn't that into this book but yet I kept reading it which means I must have liked something right? Well I did, I liked India. She was brash, straight forward, and funny. I loved how no non-sense she was and I loved her honesty from the opening chapter/epilogue. I wanted to keep reading this book because India was such a spitfire and I loved her spirit. I feel like there is more to her than meets the eye so I was intrigued to say the least.
I also liked French. I thought he was enigmatic and mysterious which worked well within the story. I know there is more to him than meets the eye and I would like to get to know more about him as a character.
While both French and India were independently intriguing, as a couple I just didn't feel any chemistry or tension and maybe that's what the author intended….but if the idea was for them to eventually become romantically involved, then I think the mark was missed.
In some ways, I felt like the whole searching for the missing documents was boring. I'm not saying that I think a murder would have been more exciting, but in this case the theft was boring. I didn't feel the eminent need to track the parcel down to avert war. I honestly felt like–well that info is going to come out one way or another so oh well if the documents make it to Russia. For me, I needed more excitement.
Even though this book was a little on the boring side for me, I did keep reading with the hope that it would get better. Then I reached a certain point where I was like ok, it's not getting better but I've already read so much what's another 100 pages at this point. So I pressed on. It wasn't that the book was bad or had terrible writing–on the contrary, it was decent–it just lacked excitement for me.
I might pick up one of the other books in the series at some point, but I am not rushing out to pick it up.
Challenge/Book Summary:
Book: India Black (Madam of Espionage #1) by Carol K Carr
Review copy provided by: Personal collection
This book counts toward: NA
Hosted by: NA
Books for Challenge Completed: NA
Recommendation: 2 out of 5
Genre: historical fiction, Regency era, mystery
Memorable lines/quotes: