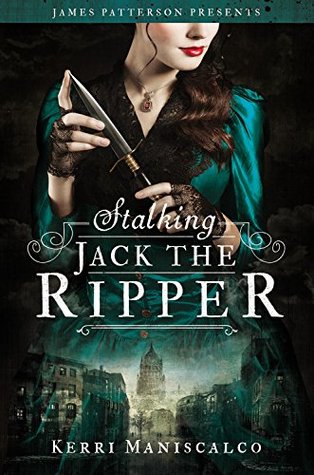 Having a library card is the best thing in the world. After seeing this book on a few Instagram pages, I was lured in by the cover and title.
I wasn't really sure I wanted to buy it though so I put a hold on it at my local library. After waiting three weeks for it to be returned, I was finally able to pick it up!
This is one of those times that I am so thankful for library cards.
Seventeen-year-old Audrey Rose Wadsworth was born a lord's daughter, with a life of wealth and privilege stretched out before her. But between the social teas and silk dress fittings, she leads a forbidden secret life.
Against her stern father's wishes and society's expectations, Audrey often slips away to her uncle's laboratory to study the gruesome practice of forensic medicine. When her work on a string of savagely killed corpses drags Audrey into the investigation of a serial murderer, her search for answers brings her close to her own sheltered world (summary from Goodreads).

This book had a lot of promise. A bitching cover with a tantalizing subject. There was so much that could have been done with this series based on the subject matter alone. The possibilities were endless. My disappointment in this book was heartbreaking.
As I said, I am thankful for my library card because I would have been even more upset if I had actually spent money on this book. After reading the third ASOIAF book, I felt like I needed something a little less detailed and complex. I was looking forward to starting this book the moment I put a hold on it!
I used to try and cop away at books that maybe I was less than interested in or just weren't written well, hoping that something good would come of the book. At the very least I could say that I read it cover to cover and give it an overall review based on a completed book rather than a DNF book.
However, I have changed my mindset. Over the years, I have come to accept the fact that my time is valuable so why waste it on a book that I'm not interested in, can't connect with the characters, or can't stomach the writing? The point of reading for me is to enjoy it rather than plugging along with a book that I just am not in to. So this year has been the year of DNF books!
I gave this book 10% and decided it just wasn't for me. There was so much wrong that I don't even know where to start. I think what did me in the most was the writing. Cliche descriptions were my number one problem ('they were as green as artichokes'….did they have artichokes in Victorian London??? Was that a thing???). The second was the name Audrey Rose….it was a mouth full and I wasn't feeling it. Everything about Audrey Rose screamed 2017 and not Victorian London. I had a hard time visualizing her in the time period let alone how she interacted with other characters. Cliche descriptions compounded with too many modern phrases just has problems written all over it. Example: "Lord help the girl he set those eyes for good. His boyish vulnerability was a weapon, powerful and disarming. I was thankful I wasn't the the kind of girl to lose my mind over a handsome face". 
Now I do realize this book is geared toward younger readers (teens etc). I realize that we don't want to scare off new teen readers by having huge words and complex prose but realistic for the period would have been helpful. Maybe I was just too old for this book you might ask…..sure it's possible but I have read tons of other YA that is written so much better than this.
For me, the descriptions were trying too hard as was Audrey Rose. She just wasn't what I was expecting out of a book like this. She could have been a complete badass but I always felt like the author was trying to hard to convince the reader of that she was 'modern' and capable. I also couldn't stand how everything was 'Uncle' this and 'Uncle' that. Or 'Father' this and 'Father' that. It just seemed off and choppy for me, it also read really bland and impersonal.
I had zero connection with Audrey Rose and even less with Thomas, the love interest. The premise with this novel could have been fantastic especially with the rich possibility of the subject matter, but it fell short in many ways for me. Now that said, many people have loved this book. I am definitely in the minority on this one.
There were things that I thought had promise….the sketches at the beginning of the chapters and the gory and graphic descriptions of the crime scenes were rather well done and held promise if I had any interest in continuing to read it….which I didn't.
As I said, I am in the minority in my rating and DNF status….lots of people liked it and thought it was really good, maybe it got better but the beginning just did nothing for me.
Book: Stalking Jack the Ripper (Stalking Jack the Ripper #1) by Kerri Maniscalco 
Review copy provided by: Personal Collection
This book counts toward: NA
Hosted by: NA
Books for Challenge Completed: NA
Recommendation: 1 out of 5 DNF BOOK
Genre: YA, Historical fiction
Memorable lines/quotes: