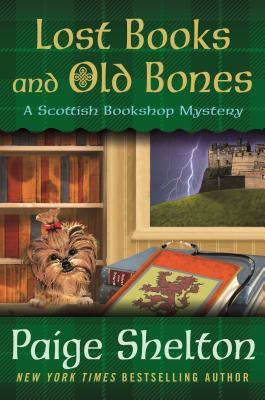 Full disclosure….I read this one simply because I liked the title and cover. Yes I was lured in by a pretty cover with the word 'books' in the title and I loved the sweet dog. I can never resist a book with a cute dog on the cover. I'm terrible. I didn't care if it was the third book in a series, or if it an over the top cozy. I just saw the cover and title and I just had to read it!
Delaney Nichols, originally of Kansas but settling happily into her new life as a bookseller in Edinburgh, works at The Cracked Spine in the heart of town. She's recently befriended a few medical school students after they came into the shop to sell some antique medical tomes. But when one of the students' friends is found murdered outside in the alley, Delaney takes it upon herself to help bring the murderer to justice.
During her investigation, Delaney finds some old scalpels in the bookshop's warehouse—she finds out that they belonged to a long-dead doctor, whose story might be connected to the present-day murder. It's all Delaney can do to race to solve this crime before time runs out and she ends up in danger herself (summary from Goodreads). 
From what I gather, this series is a popular cozy series and I can see why…..who doesn't dream of leaving small town America and opening a book shop in Scotland where you solve mysteries?! This is my dream right here and I was all about it for this book!
Yes I felt a little out of place in the series, obviously there was a back story and much I was missing but I don't think it had a huge impact on the story as a whole. If you are, like me, jumping into the series blind, I think you would be alright but if you want to fully enjoy the characters and how they all know each other etc, then I think you would want to start from the beginning of the series itself.
If you can get past jumping into the series three books in, what awaits you is a fun backdrop with an interesting mystery that will intrigue readers and fans of the cozy genre. I loved how the book shop worked within the story and I thought it added a lot to the atmosphere and feel of the book. The mystery itself was fun, not overly complicated or fast paced but fun all the same. I enjoyed trying to work it out on my own and loved discovering clues right along with Delaney.
Delaney is sassy and has a lot of spunk. I liked her immediately and found her to be an excellent heroine! I want her life. When I think about connecting with a character, I think about someone like this. She's such a great lead and I think a lot of readers will like her immensely!
There is enough suspense to keep readers excited about the mystery, sometimes in cozy books, readers get to caught up in the setting and quirky characters—at least I do—but in this book the mystery itself was the main focus. Yes I loved the character and setting etc but for me the mystery was what shined brightest.
I totally want to go back and read the other books in the series now. I can see why so many people love this series and I am excited that I have discovered something new to read! If you love cozy mysteries and haven't yet started this series….pick up this book and the other two and start reading right away! If you have been eagerly awaiting this book to come out because you are a long time fan then get excited because this one is a great read!
Challenge/Book Summary:
Book: Lost Books and Old Bones (Scottish Bookshop Mystery #3) by Paige Shelton
Kindle Edition, 320 pages

Expected publication: April 3rd 2018 by Minotaur Books
This book counts toward: NA
Hosted by: NA
Books for Challenge Completed: NA
Recommendation: 4.5 out of 5
Genre: cozy mystery, mystery, detective novel
Memorable lines/quotes: