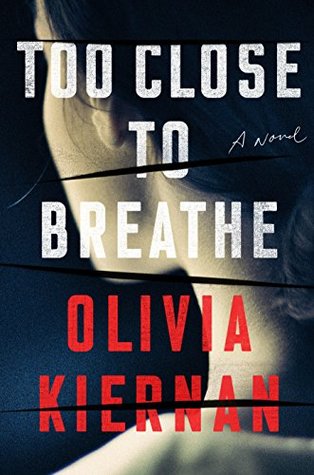 Lately I've been trying to branch out and read more thrillers, especially more modern thrillers. They are usually quick reads for me and I sometimes get stuck in the 'past' reading a bunch of historical mysteries that I think it's 1880 rather than 2018 so, breaking things up is a good thing for me.
This one came up and it's from an author that I have never heard of but I saw that the book was set in Dublin which I thought made the book sound different and interesting. I have also seen it compared to IN THE WOODS, I've not read IN THE WOODS yet, but I've heard great things about it and I was excited to see read something that was similar but yet uniquely it's own and maybe a little more off the radar.
In a quiet Dublin suburb, within her pristine home, Eleanor Costello is found hanging from a rope.
Detective Chief Superintendent Frankie Sheehan would be more than happy to declare it a suicide. Four months ago, Frankie's pursuit of a killer almost ended her life and she isn't keen on investigating another homicide. But the autopsy reveals poorly healed bones and old stab wounds, absent from medical records. A new cut is carefully, deliberately covered in paint. Eleanor's husband, Peter, is unreachable, missing. A search of the couple's home reveals only two signs of personality: a much-loved book on art and a laptop with access to the Dark Web.
With the suspect pool growing, the carefully crafted profile of the victim crumbling with each new lead, and mysterious calls to Frankie's phone implying that the killer is closer than anyone would like, all Frankie knows is that Eleanor guarded her secrets as closely in life as she does in death.
As the investigation grows more challenging, Frankie can't help but feel that something doesn't fit. And when another woman is found murdered, the same paint on her corpse, Frankie knows that unraveling Eleanor's life is the only way to find the murderer before he claims another victim . . . or finishes the fate Frankie only just managed to escape (summary from Goodreads).
I was surprised that this was the author's debut novel. I knew it was the first in a new series but I guess I didn't realize it was her first novel all together. I had never heard of her but that's not surprises since thrillers are a little new to my review genre so I just thought this was a new series, but after reading the book I was impressed by this new author's ability to tell a twisty tale. She writes like an old pro with all kinds of interesting plot dynamics and interesting threads to hold the reader's interest.
This had a lot of police procedural elements and it was clear that either Kiernan had a background in police work or she spent a TON of time researching everything so that she could get it right. It was seamless and felt natural so however she came about her knowledge was impressive.
The main character clearly has some deep issues with PTSD which makes her a fascinating protagonist. Frankie clearly has some things that she needs to work through but getting to do that with her as a reader keeps things interesting and adds depth to her character.
The plot itself had a lot to hold my interest. There is some graphic content in this book and some deeply disturbing elements but I think fans of the genre will enjoy how well put together this thriller is. It has an interesting lead character, a complex plot that is rich in details and darkness, but the police procedurals elements made the book for me.
I haven't really read a lot go books within the subgenera of police procedurals so for me this book stood out because of that, however I have read a few other reviews from people who are big fans of that subgenera and they said this book didn't bring anything new to the genre of police procedurals. So it sounds like fans of the subgenera will likely find this book just ok, but for me I found it excellent! I loved the darkness of the plot, the complexity of Frankie, and the details of the procedural. I did wish though that Dublin had been featured more in this book and that she would have capitalized on the setting and culture more.
Challenge/Book Summary:
Book: Too Close to Breathe: A Novel (Frankie Sheehan #1) by Olivia Kiernan
Kindle Edition, 304 pages

Published April 3rd 2018 by Dutton
This book counts toward: NA
Hosted by: NA
Books for Challenge Completed: NA
Recommendation: 4 out of 5
Genre: crime fiction, mystery, thriller, police procedural
Memorable lines/quotes: