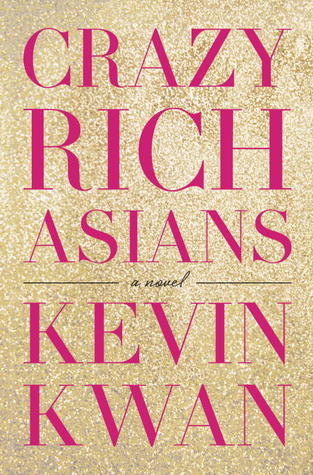 Like many people, I've seen the preview for the upcoming film Crazy Rich Asians and let's be honest, it looks really good–at least I think so anyway. It's definitely on my summer movie list at any rate.
I was thrilled to see that the movie was also based on a book and I was super excited to read it. I wasn't sure that I wanted to buy it but I put it on my library queue and waiting a surprising number of weeks to get it—seems like everyone else had the same idea as me.
When it came in I rushed to pick it up because clearly it was a popular book and I was excited to read it and find out what it was all about!
Crazy Rich Asians is the outrageously funny debut novel about three super-rich, pedigreed Chinese families and the gossip, backbiting, and scheming that occurs when the heir to one of the most massive fortunes in Asia brings home his ABC (American-born Chinese) girlfriend to the wedding of the season.
When Rachel Chu agrees to spend the summer in Singapore with her boyfriend, Nicholas Young, she envisions a humble family home, long drives to explore the island, and quality time with the man she might one day marry. What she doesn't know is that Nick's family home happens to look like a palace, that she'll ride in more private planes than cars, and that with one of Asia's most eligible bachelors on her arm, Rachel might as well have a target on her back.
Initiated into a world of dynastic splendor beyond imagination, Rachel meets Astrid, the It Girl of Singapore society; Eddie, whose family practically lives in the pages of the Hong Kong socialite magazines; and Eleanor, Nick's formidable mother, a woman who has very strong feelings about who her son should–and should not–marry. Uproarious, addictive, and filled with jaw-dropping opulence, Crazy Rich Asians is an insider's look at the Asian JetSet; a perfect depiction of the clash between old money and new money; between Overseas Chinese and Mainland Chinese; and a fabulous novel about what it means to be young, in love, and gloriously, crazilyrich (summary from Goodreads).
So I had a really hard time with this one and I am horribly disappointed. Immediately I knew this wasn't the book for me. I knew after the prologue. While I liked the sassy rich Asian family in the prologue and I found them to be intriguing…..I couldn't get passed all the Chinese slang and all the characters. I don't know what I expected but this just wasn't it.
There was a lot of Chinese culture and language which on one hand was really awesome and added a ton of authenticity to the story but for me it was confusing and I felt lost and bogged down by all the footnotes for American or English speaking readers. I appreciated what Kwan was trying to do but for me I felt like this was going to be a long, long, long read for me if I couldn't get through the prologue and the first couple of chapters. There was a lot of 'stop and read the footnote for further explanation' for my taste and while that might not have carried on the entire book, it was too much too soon for me and I quickly lost interest.
There were also a lot of characters to keep up with so between the language slang notes and the characters I quickly became overwhelmed and bored. I set it down less than 10% of the way through as I just knew it wasn't for me.
This made me so sad because I really love the premise of the book and the upcoming movie. Who doesn't love dreaming about being rich and famous one day? I for one dream of the rich part on a regular basis and I would love to be like any of the characters in this book with money to spend and not just your average millionaire but a super 'crazy rich' millionaire. So I should have loved this book purely for the guilty pleasure of something so fantastic and outrageous, but I just couldn't get past all the cultural references. I know there were a few other readers that didn't care for this book but many of them noted it was superficial and unbelievable—while it might have been those things, that wasn't the reason I didn't like the book. I knew going in that this book was meant to be an escape book—escape from reality and dream book—not prize winning literature. I just felt like there was too much 'stop to translate' happening.
Now don't get me wrong—I think a book by an Asian about Asians is freaking awesome! I love that he wanted to keep true to his culture and represent them as people and characters beyond noodles and dumplings in Chinatown or martial arts philosophers—which is sadly what a lot of Americans tend to place Asians in literature. There are some great Asian literature books out there but not a lot of light hearted reads that aren't stereotypical and contrite. This is one for those light hearted reads that doesn't make the culture stereotypical, instead is attempts to pain a true picture but not in the way more serious literature does. I completely respect his goal and style but I just found that for me there was too much to get around before we got to the story which bogged it down for me and made me lose interest.
I know I am in the minority when it comes to this book—many people loved it and it's received a ton of positive reviews. While I might not have liked it, plenty of others did. And the big question…..will I still go watch the movie when it comes out—-you can bet your chop sticks on it!
Challenge/Book Summary:
Book: Crazy Rich Asians (Crazy Rich Asians #1) by Kevin Kwan
Hardcover, 416 pages

Published June 11th 2013 by Doubleday (first published 2013)

Review copy provided by: Publisher/author in exchange for an honest review
This book counts toward: NA
Hosted by: NA
Books for Challenge Completed: NA
Recommendation: 1 out of 5 (DNF)
Genre: Chick lit, women's fiction, contempo lit, Asian lit
Memorable lines/quotes: