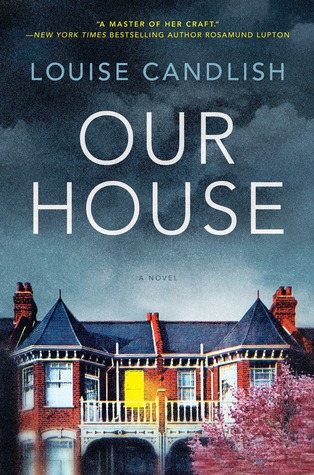 This is another book thats been all over my Instagram for the last month or so. I was approached a few months ago to read it and put it on my calendar for late summer and then moved on to other books.
When it came time to read this one, I had kind of forgotten about it but then I started seeing these posts on Instagram and was like 'OMG I need to read this book!'. Then I remembered that I was supposed to be reading this one, and soon! So I started to get excited!
There's nothing unusual about a new family moving in at 91 Trinity Avenue. Except it's her house. And she didn't sell it.
When Fiona Lawson comes home to find strangers moving into her house, she's sure there's been a mistake. She and her estranged husband, Bram, have a modern coparenting arrangement: bird's nest custody, where each parent spends a few nights a week with their two sons at the prized family home to maintain stability for their children.
But the system built to protect their family ends up putting them in terrible jeopardy. In a domino effect of crimes and misdemeanors, the nest comes tumbling down.
Now Bram has disappeared and so have Fiona's children. As events spiral well beyond her control, Fiona will discover just how many lies her husband was weaving and how little they truly knew each other. But Bram's not the only one with things to hide, and some secrets are best kept to oneself, safe as houses (summary from Goodreads). 
So this book is marketed as a thriller, and the cover actually kind of says domestic thriller to me so I was kind of surprised when this book wasn't really all that thrilling. That's not to say that it was bad—in fact I liked this book a lot, I just don't think that it was much of a 'thriller'. Domestic suspense—yes—-domestic thriller—-no.
The cover was what hooked me on this book. I thought there was a lot of visual interest in this cover and I liked the description of the book enough to agree to review it and so here we are.
I enjoyed this book from a mystery stand point. The premise was interesting and there were a few twists and turns that I didn't see coming but this was a far cry from the extra dark twisted thriller that I thought I was going to be reading. That said, I still really really liked this book. The characters were believable and I felt like their actions fit with who they were as characters and they didn't do anything over the top of completely crazy or out of characters. Fi could have easily been me or a friend of mine for something, which was why I loved the characters—-their realness.
The middle of the story got bogged down a bit, but over all I thought it mostly moved well and I was interested in the story and mystery enough to keep reading. If you like domestic mysteries similar to Big Little Lies, then you will probably enjoy this one, but if you are looking for something like The Girl on the Train, then you should probably keep looking. Overall good but not great.
Challenge/Book Summary:
Book: Our House by Louise Candlish
Kindle Edition, 416 pages
Published August 7th 2018 by Berkley (first published April 5th 2018)
Review copy provided by: publisher/author in exchange for an honest review, all opinions are my own
Recommendation: 3.5 out of 5
Genre: mystery, domestic suspense
Memorable lines/quotes: