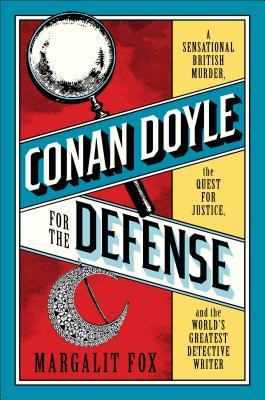 If you are like me, you probably only think of Sherlock Holmes when you hear the name Arthur Conan Doyle. I had no idea that he was like a real life Sherlock as well!
When this book came across my desk for review I was immediately intrigued because the more I thought about it, I knew basically nothing about the man who created the world most famous detective.
It actually makes sense that Conan Doyle was a real life detective, he obviously wrote with such authority on the subject that it's embarrassing that  I didn't put it together before.
This book caught my eye and I immediately wanted to learn more about Sir Arthur Conan Doyle and how he played detective and ultimately wrote the most well known mysteries in history! 
For all the scores of biographies of Arthur Conan Doyle, creator of the most famous detective in the world, there is no recent book that tells this remarkable story–in which Conan Doyle becomes a real-life detective on an actual murder case. In Conan Doyle for the Defense, Margalit Fox takes us step by step inside Conan Doyle's investigative process and illuminates a murder mystery that is also a morality play for our time–a story of ethnic, religious, and anti-immigrant bias.
In 1908, a wealthy woman was brutally murdered in her Glasgow home. The police found a convenient suspect in Oscar Slater–an immigrant Jewish cardsharp–who, despite his obvious innocence, was tried, convicted, and consigned to life at hard labor in a brutal Scottish prison. Conan Doyle, already world famous as the creator of Sherlock Holmes, was outraged by this injustice and became obsessed with the case. Using the methods of his most famous character, he scoured trial transcripts, newspaper accounts, and eyewitness statements, meticulously noting myriad holes, inconsistencies, and outright fabrications by police and prosecutors. Finally, in 1927, his work won Slater's freedom.
Margalit Fox, a celebrated longtime writer for The New York Times, has "a nose for interesting facts, the ability to construct a taut narrative arc, and a Dickens-level gift for concisely conveying personality" (Kathryn Schulz, New York). In Conan Doyle for the Defense, she immerses readers in the science of Edwardian crime detection and illuminates a watershed moment in the history of forensics, when reflexive prejudice began to be replaced by reason and the scientific method (summary from Goodreads).
I know I have said this before, but I think it's worth mentioning again….I don't read a lot of biographies but I absolutely love true crime (which I lately haven't read as much as I would like). But this paired both biography and true crime together so I immediately knew that this wasn't going to be another timeline style biography where we just hit the high and low notes in order and then be done with it.
This book was much more than just a biography! This book examines social injustice, mystery, the legal system, and of course Conan Doyle himself. I loved reading about the early turn of the century justice system especially the miscarriage of justice done to Oscar Slater. While this book is full of Conan Doyle tidbits and facts, the details of the social prejudices and legal issues were fascinating to read about.
This read more like a documentary than a biography. It was to the point and didn't meander aimlessly. I read that the author used to write obituaries and I can see that influence here. She is brief, to the point, but also chooses her words carefully to add maximum impact for her readers.
If you love true crime and you (like me) are a fan of Sherlock Holmes, this book was basically written for you. I loved reading this one much more than I was expecting! Sure it looked interesting and had an interesting cover, but initially I just thought it was going to be another biography…..I was so wrong. This book was exciting to read and really held my attention, not just a biography but something so much more interesting!
Challenge/Book Summary:
Book:  Conan Doyle for the Defense: The True Story of a Sensational British Murder, a Quest for Justice, and the World's Most Famous Detective Writer by Margalit Fox
Published June 26th 2018 by Random House
Review copy provided by: Publisher/Author in exchange for an honest review, all opinions are my own
Recommendation: 4 out of 5
Genre: biography, true crime
Memorable lines/quotes: