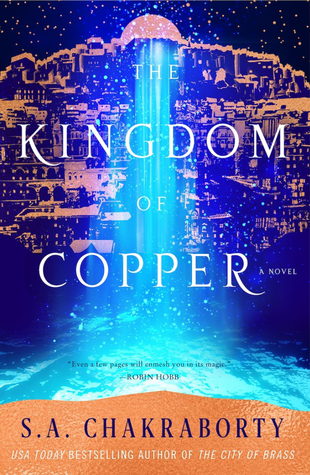 This book was on my preorder list before I even finished the first book. The first book was unbelievable and stood out as a favorite thought out the year.
I loved the first book and couldn't wait for the long year to pass before I was finally able to return to Daevabad. The world that the author created was rich, diverse, interesting, and above all the heroine, Nahri, was a force to be reckoned with.
In the days and weeks leading up to the release of this book, I thought briefly that I should go back and re-read the first book again, but decided against it since I was sure everything would come floating back to me without issue .
Summary
Nahri's life changed forever the moment she accidentally summoned Dara, a formidable, mysterious djinn, during one of her schemes. Whisked from her home in Cairo, she was thrust into the dazzling royal court of Daevabad—and quickly discovered she would need all her grifter instincts to survive there.
Now, with Daevabad entrenched in the dark aftermath of a devastating battle, Nahri must forge a new path for herself. But even as she embraces her heritage and the power it holds, she knows she's been trapped in a gilded cage, watched by a king who rules from the throne that once belonged to her family—and one misstep will doom her tribe..
Meanwhile, Ali has been exiled for daring to defy his father. Hunted by assassins, adrift on the unforgiving copper sands of his ancestral land, he is forced to rely on the frightening abilities the marid—the unpredictable water spirits—have gifted him. But in doing so, he threatens to unearth a terrible secret his family has long kept buried.
And as a new century approaches and the djinn gather within Daevabad's towering brass walls for celebrations, a threat brews unseen in the desolate north. It's a force that would bring a storm of fire straight to the city's gates . . . and one that seeks the aid of a warrior trapped between worlds, torn between a violent duty he can never escape and a peace he fears he will never deserve (summary from Goodreads)
Review
I have no idea what happened with this book, but it fell completely flat for me and bordered dangerously on boring. I waited months for this book and was so excited to start it and almost immediately I felt lost and like I had no idea what was happening in the story.
Nahri was kind of a wet blanket for more the first half of the book and I felt so incredibly disappointed in her that I had to finally just put the book down and DNF. The first book was full of action and a sassy, badass heroine. This book just became too much about politics and Nahri was so beaten down that I found myself not caring if she eventually rose from her ashes in the book.
The first book left such a clip hanger in the series and I was eager to see what became of our characters but frankly it had been a while between books and I was expecting there to be more of a recapping for readers. Instead I felt like it just jumped right back into the story without orientating the reader which caused me to spend a substantial period trying to remember what happened in the former book and wishing beyond words that I had gone back and re-read the first one.
In the end, I just couldn't make myself read any more which was horribly disappointing and sad because I loved the first book so much. This book just seemed over long full of too much politics and not enough excitement in the plot. There was too much of the inner dialogue within the characters and not enough interaction for me. I finally just had to put it down and DNF. As sad as I am about that, I just couldn't continue with so many other books that I felt were calling my name. I might pick it up again at a different time but for now, it just wasn't for me at this point.
Book Info and Rating
Hardcover, 621 pages
Published January 22nd 2019 by Harper Voyager (first published January 8th 2019)
WHERE TO BUY (AFFILIATE LINKS)