To say that this cover caught my eye is an understatement. I was drawn to it like a moth to a flame. It's elegant, bright and exotic looking, but with the air of familiarity as a recognizable piece of historical fiction.
I was eager to read it and thrilled when my copy came. From the description, it sounded a little like Pearl Harbor the movie.
Now no judgement but I loved that movie. I didn't care for Josh Hartnett but overall I loved that movie and I still watch it every time that it's on.
So in my mind I was secretly hoping that this book was going to be, at least a little, like the film.
Summary
November, 1941. She's never even seen the ocean before, but Eva Cassidy has her reasons for making the crossing to Hawaii, and they run a lot deeper than escaping a harsh Michigan winter. Newly enlisted as an Army Corps nurse, Eva is stunned by the splendor she experiences aboard the steamship SS Lurline; even more so by Lt. Clark Spencer, a man to whom she is drawn but who clearly has secrets of his own. Eva's past—and the future she's trying to create—means that she's not free to follow her heart. Clark is a navy intelligence officer, and he warns her that the United States won't be able to hold off joining the war for long, but nothing can prepare them for the surprise attack that will change the world they know.
In the wake of the bombing of Pearl Harbor, Eva and her fellow nurses band together for the immense duty of keeping the American wounded alive. And the danger that finds her threatens everything she holds dear. Amid the chaos and heartbreak, Eva will have to decide whom to trust and how far she will go to protect those she loves.
Set in the vibrant tropical surroundings of the Pacific, The Lieutenant's Nurse is an evocative, emotional WWII story of love, friendship and the resilient spirit of the heroic nurses of Pearl Harbor. (summary from Goodreads).
Review
So was this book like the movie, not really, but there were things that reminded me of the film. Obviously the film Pearl Harbor and this book have absolutely nothing to do with each other—they are independent entities and about the only thing they had in common was that two people, a nurse and a Lieutenant find love in the middle of a tragedy and war all set in Pearl Harbor on the eve of the attack. That's where the similarities end.
I finished this book in a matter of days and found that I really enjoyed it. There were things that bothered me with the dialogue, but they were minor in comparison to the overall story. There were a few words or terms that I like to think of as 'period language' that the characters used like 'gee-wiz' or 'golly she's nice' or things like that, but then there were other more modern phrases mixed in and I felt that distracting.
The beginning of the book was excellent and the romance between Lt Spencer and Eva was interesting and full of potential, but then once they landed in Hawaii, that's where things just fizzled out for me and I lost interest in their romance. For something that was put forward do prominently in the beginning, it just didn't carry through the entire length of the novel which I felt disappointed with.
But what I did love was the setting and how well developed Eva's story was. I loved reading about her back story and how she came to be in a position at Pearl Harbor. The nursing aspect was interesting and I loved reading about how the hospitals, nurses, and doctors stepped up to the plate.
At the end of the day I felt that this book was worthy of a 4 star rating. It was a great read with a few minor stylistic things that I wished had been different, but on the whole I felt that it was a fun read and I look forward to reading more books by this author!
Book Info and Rating
Kindle Edition, 352 pages
Published March 1st 2019 by MIRA
Purchase Links
About Sara Ackerman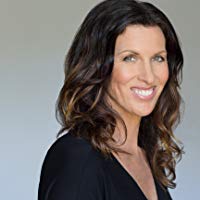 Sara is the bestselling author of Island of Sweet Pies and Soldiers. Born and raised in Hawaii, she studied journalism and earned graduate degrees in psychology and Chinese medicine. She blames Hawaii for her addiction to writing, and sees no end to its untapped stories. When she's not writing or teaching, you'll find her in the mountains or in the ocean. She currently lives on the Big Island with her boyfriend and a houseful of bossy animals. Find out more about Sara and her books at http://www.ackermanbooks.com.
Connect with Sara
Instagram Tour:
Monday, March 4th: @bookstackedblonde
Tuesday, March 5th: @worldswithinpages
Wednesday, March 6th: @book.hang.o.ver
Wednesday, March 6th: @stephaniehowell
Friday, March 8th: @readwithjamie
Friday, March 8th: @180_looks_with_books
Saturday, March 9th: @megabunnyreads
Sunday, March 10th: @reading.betweenthewines
Monday, March 11th: @booktimistic
Tuesday, March 12th: @sarahs_reads
Wednesday, March 13th: @booksandpolkadots
TBD: Thursday, March 7th: @sjwonderlandz