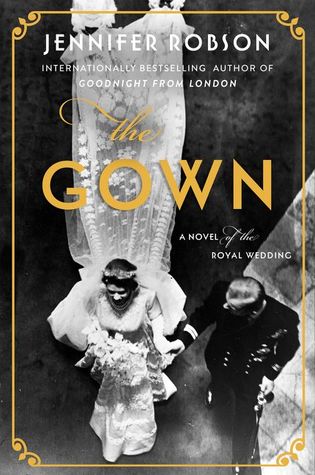 This book has received a huge amount of praise and it's basically been everywhere I've turned in the last few months. Magazines, social media, recommended reading on Goodreads, and staff picks in book stores. Everywhere.
I ordered the book when it first came out but then it got lost in all my other reading and largely I have been able to accomplish a lot more 'reading' by listening to audiobooks. So I decided to get this book on Audible and see if I could make some headway with it.
Obviously this book appealed to me for a number of reasons. First of all, I love all things royal and second it included a fashion element which I knew next to nothing about and honestly has never considered before.
Summary
London, 1947: Besieged by the harshest winter in living memory, burdened by onerous shortages and rationing, the people of postwar Britain are enduring lives of quiet desperation despite their nation's recent victory. Among them are Ann Hughes and Miriam Dassin, embroiderers at the famed Mayfair fashion house of Norman Hartnell. Together they forge an unlikely friendship, but their nascent hopes for a brighter future are tested when they are chosen for a once-in-a-lifetime honor: taking part in the creation of Princess Elizabeth's wedding gown.
Toronto, 2016: More than half a century later, Heather Mackenzie seeks to unravel the mystery of a set of embroidered flowers, a legacy from her late grandmother. How did her beloved Nan, a woman who never spoke of her old life in Britain, come to possess the priceless embroideries that so closely resemble the motifs on the stunning gown worn by Queen Elizabeth II at her wedding almost seventy years before? And what was her Nan's connection to the celebrated textile artist and holocaust survivor Miriam Dassin?
With The Gown, Jennifer Robson takes us inside the workrooms where one of the most famous wedding gowns in history was created. Balancing behind-the-scenes details with a sweeping portrait of a society left reeling by the calamitous costs of victory, she introduces readers to three unforgettable heroines, their points of view alternating and intersecting throughout its pages, whose lives are woven together by the pain of survival, the bonds of friendship, and the redemptive power of love ( summary from Goodreads).
Review
This book was a hard one to review. First of all the narrator was awesome and I don't feel like the narration in any way played a part in my opinion of this novel.
I think that what bothered me about this book was the darker direction of Anne's story. I really loved the three alternating story lines and how they all worked to create a larger story. I also loved the historical pieces of the gown itself and the embroidery process. There was so much historical detail that I just felt like made this book so wonderful and beautiful.
But I couldn't get past Anne's story. I loved Anne as a character and the shocking villainy in this story made me so sad. Without giving too much away, I will just say that I felt that the villain did almost win in the end and I didn't feel like there was enough vindication or success from Anne to feel like the villain in the story was truly vanquished or at least defeated. If you have read this book feel free to message me and we can talk about it!
I haven't read any of Robson's other books so this was my first experience with her writing and I absolutely loved it and was eager to read more of her books. I have actually downloaded a couple more of her audiobooks to listen to in the coming weeks. I love when I find a new author to enjoy!
This book started out as a 5 star review for me, but as the shocking villainy took over and with the resolution as I mentioned, I ultimately had to go with 4 stars because I was just too sad and defeated for Anne to really enjoy the rest of the story. Up until that point though it was a wonderful story of friendship and again, the historical research and detail was huge. I loved that aspect!
If you love historical fiction, royals, or weddings, then you will love this book. It's well researched with great characters! Plus the narration in this one is wonderful!
Book Info and Rating
Audiobook
Published December 31st 2018 by HarperAudio
WHERE TO BUY (AFFILIATE LINKS)