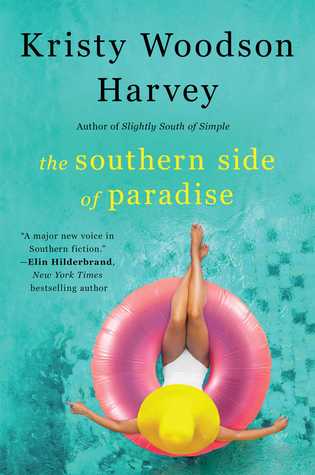 I discovered Kristy Woodson Harvey by chance…..or maybe she discovered me by chance—and I am so glad that we connected. When she approached me to review one of her books a three years ago, I was skeptical but yet oddly intrigued.
At that time I was just getting into women's fiction and hadn't really read a lot of 'beach reads' thinking that maybe it wasn't my genre—at least not yet. But then here came this sweet blonde southern belle who wanted me to read one of her books and I was like well, why not?
What I discovered in the pages of the first book I read by her, Lies and Other Acts of Love, was so beautiful and well written that I knew I had found a new favorite author! Since then I have read all of her books except one, her first—Dear Carolina.
Her Peachtree Bluff series is probably her most well known and loved, and this book is the last installment, but hopefully not the last book that she writes!
Summary
With the man of her dreams back in her life and all three of her daughters happy, Ansley Murphy should be content. But she can't help but feel like it's all a little too good to be true.
Meanwhile, youngest daughter and actress Emerson, who is recently engaged and has just landed the role of a lifetime, seemingly has the world by the tail. Only, something she can't quite put her finger on is worrying her—and it has nothing to do with her recent health scare.
When two new women arrive in Peachtree Bluff—one who has the potential to wreck Ansley's happiness and one who could tear Emerson's world apart—everything is put in perspective. And after secrets that were never meant to be told come to light, the powerful bond between the Murphy sisters and their mother comes crumbling down, testing their devotion to each other and forcing them to evaluate the meaning of family (summary from Goodreads)
Review
OK so I have to just get this out right away. This cover makes me so happy. Every time I see it, it looks like summer but it also reminds me of a big bright pink donut and I'm instantly hungry. I love this cover so much and it's my favorite cover in the series!
Now that that's settled, the book itself came in strong! I took this book out on my back porch in a warm spring day and relaxing in the sun enjoying every minute of it. I could easily have read it in one sitting, but with a toddler sometimes thats a challenge! While Slightly South of Simple will always be my favorite in the series, this book came in as a solid second. In my opinion each book in this series can stand alone, but I also think reading it from the beginning would be so much more satisfying but, feel free to pick up wherever, but once you discover the series you won't want it to end!
With Mother's Day just around the corner this mother/daughter storyline would be a perfect gift for the mom in your life! I loved watching how the dynamic between Ansley and her daughter Emerson grew and evolved–not to mention Ansley's other 2 daughters. Some of the major themes in this book are forgiveness and honesty and I loved seeing that play out in Ansley's relationships with her daughters. With this book being Emerson's story I was so sad that this meant the end of the Peachtree Bluff girls but so happy to be reading more about Emerson.
The women in this book are so real, strong, honest, and relatable. While I might not be in the same boat as Ansley or her daughters, I can relate to all her struggles and fears. She nailed the complexity of the relationships for sure!  I especially loved how none of the choices that the characters faced were 'easily solved'. It made the story and characters feel so much more authentic and real.
Woodson Harvey's love for the South has so evident in page of her writing. Peachtree Bluff might be a fictional town but I can see it so vividly. Her prose is elegant and refreshing as a cool summer breeze and I adore seeing her characters, charming town, and novel themes come to life under her care.
Many have hailed her as a rising star, not just in Southern lit, but in women's fiction all together and I wholeheartedly agree! I can't wait to see what book she cooks up next, but more importantly, I hope we actually get to meet in person one day. I hope her book tours eventually bring her to Portland because I would gladly make the drive to meet her! And one of these days I hope to read Dear Caroline so I can finally officially say I have read all her books!
And finally to Kristy, thank you so much for including me in your acknowledgments, it's truly a blessing to read well written novels like yours!
If you haven't read the Peachtree Bluff series, stop what you are doing right now and go read it! And if you need a last minute gift for your mom for Mothers Day, this is it right here!
Book Info and Rating
Kindle edition, 400 pages
Expected publication: May 7th 2019 by Gallery Books
WHERE TO BUY (AFFILIATE LINKS)