I haven't read a ton of Asian literature but I was eager to read this one because of one thing—the time period. My venture into Asian literature has come down to two books, Memoirs of a Geisha and Snowflower and the Secret Fan…..that is it. So when I agreed to read this book, I had no idea what I was going to get.
I remember reading Memoirs of a Geisha and Snowflower and the Secret Fan and loving both of those. Especially Memoirs of a Geisha, mostly because it was set during WWII and the occupation of allied troops post war was very interesting to me.
When this book came up for review, I was hoping it would be something similar to Memoirs of a Geisha, as it is set in the same time period, but this book promised to be a lot more interesting, as it talks about the Japanese occupying Singapore during the war instead of a pots war world.
Plus that cover is to die for and I couldn't pass on such a visually stunning cover!
Summary
Singapore, 1942. As Japanese troops sweep down Malaysia and into Singapore, a village is ransacked, leaving only two survivors and one tiny child.
In a neighboring village, seventeen-year-old Wang Di is strapped into the back of a troop carrier and shipped off to a Japanese military brothel where she is forced into sexual slavery as a "comfort woman." After sixty years of silence, what she saw and experienced still haunts her.
In the year 2000, twelve-year-old Kevin is sitting beside his ailing grandmother when he overhears a mumbled confession. He sets out to discover the truth, wherever it might lead, setting in motion a chain of events he never could have foreseen.
Weaving together two time lines and two very big secrets, this stunning debut opens a window on a little-known period of history, revealing the strength and bravery shown by numerous women in the face of terrible cruelty. Drawing in part on her family's experiences, Jing-Jing Lee has crafted a profoundly moving, unforgettable novel about human resilience, the bonds of family and the courage it takes to confront the past (summary from Goodreads).
Review
So it turns out, this book is nothing like Memoirs of a Geisha. It was so much darker and heavy and just not what I was expecting at all. The history in this book was absolutely brutal and heartbreaking. It was a tough book to read, not because it was poorly written or anything, but because it was just so sad!
I am glad that I read this book, but I just wasn't prepared for how sad it would make me feel and how hard it would be to read. I feel like I need a total feel good book after this one, because the book hangover I am feeling is so so so real right now.
The historical research that went into this novel was fantastic. I loved reading all the rich history (albeit sad history) throughout this book. That made this book stand out. I loved the duel timelines and how they blended together so nicely. I thought it really kept the book on track and moving. It was also interesting to see the two gendered perspectives in this book. You don't often get that with many novels and in this book I thought it worked really really well. The way the author incorporated the history of the time and the perspectives in the book really made it stand out. I felt like I was reading something genuine, authentic, and new.
Overall while I thought this book was well written, beautiful and exceptionally well researched, I was so sad after reading it that I had a hard time giving it 5 stars for that reason alone. I ended up going with 4.5 stars because the sadness was real and I just don't want people reading this book and thinking it's going to leave them uplifted and happy. While the ending and everything made sense and left me feeling satisfied, my heart was still broken.
Book Info and Rating
Kindle Edition, 352 pages
Published May 7th 2019 by Hanover Square Press (first published 2019)
WHERE TO BUY (AFFILIATE LINKS)
Purchase Links
About Jing-Jing Lee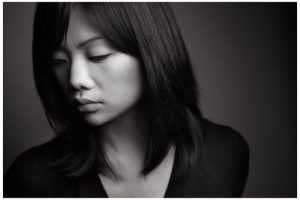 Jing-Jing Lee is the author of the novel, If I Could Tell You. Her poems have been published in Ceriph, Poetry Quarterly, Quarterly Literary Review Singapore, and Moving Words 2011: A Poetry Anthology. Jing moved to Europe in her early 20s and started to pursue writing full-time. In 2011, she gained a Masters of Studies in Creative Writing from the University of Oxford. She now lives in Amsterdam with her husband and is working on her second book of fiction. When she's not working on her novel-in-progress or reading (or taking photographs), she can be found here and on twitter.
Connect with Jing-Jing
Instagram tour:
Monday, April 29th: @prose_and_palate
Tuesday, April 30th: @foldedpagesdistillery
Wednesday, May 1st: @jessicamap
Thursday, May 2nd: @bookishconnoisseur
Thursday, May 2nd: @theardentbiblio
Friday, May 3rd: @brookesbooksandbrews
Saturday, May 4th: @everlasting.charm
Sunday, May 5th: @love_my_dane_dolly
Monday, May 6th: @inquisitivebookworm
Monday, May 6th: @amanda.the.bookish
Tuesday, May 7th: @wherethereadergrows
Tuesday, May 7th: @ladyofthelibrary
Wednesday, May 8th: @oddandbookish
Review tour:
Monday, April 29th: I Write In Books
Tuesday, April 30th: Literary Quicksand
Wednesday, May 1st: Lit and Life
Thursday, May 2nd: Books and Cats and Coffee
Monday, May 6th: Patricia's Wisdom
Tuesday, May 7th: 100 Pages a Day
Wednesday, May 8th: The Baking Bookworm
Thursday, May 9th: Tar Heel Reader and @tarheelreader
Monday, May 13th: That's What She Read and @thats_what_she_read
Tuesday, May 14th: @lavieestbooks
Wednesday, May 15th: Kahakai Kitchen
Thursday, May 16th: Helen's Book Blog
Monday, May 20th: Musings of a Bookish Kitty
Wednesday, May 22nd: Run Wright
Thursday, May 23rd: Girl Who Reads
Friday, May 24th: The Lit Bitch
Tuesday, May 28th: Palmer's Page Turners
Wednesday, May 29th: Book Fidelity