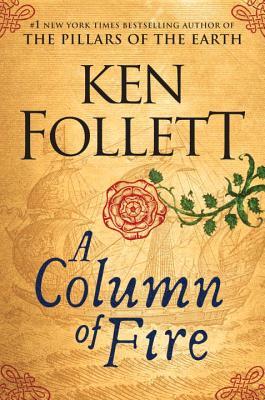 There is a reason that Ken Follett is a #1 best selling author–his novels are fantastic.
I read his book THE PILLARS OF THE EARTH while I was visiting London in 2009 and never looked back. His writing was unparalleled and I loved that book with all my heart. I couldn't put it down the entire vacation and I happened to be cathedral hopping in England so it was a fitting read to be sure.
I didn't continue on with the Kingsbridge series though, only because I felt like the way Pillars ended, it was enough. I was happy with where it ended and where all the characters were in their lives. I didn't want to sully the wonder of the first book with an unsatisfying second book, if that's what it turned out to be—I don't know if it was that or not but I haven't yet read WORLD WITHOUT END.
So here we are, another Kingsbridge book is coming out and the summary sounds so promising. I was intrigued enough to consider reading it and continuing with the series. I decided to read A COLUMN OF FIRE later this fall so I will be posting a review in Nov, but until then I wanted to let readers in on a little Q & A with the author and a summary of what sounds like a fantastic book.
Continue reading "Special Feature: A COLUMN OF FIRE (Kingsbridge #3) by Ken Follett" →