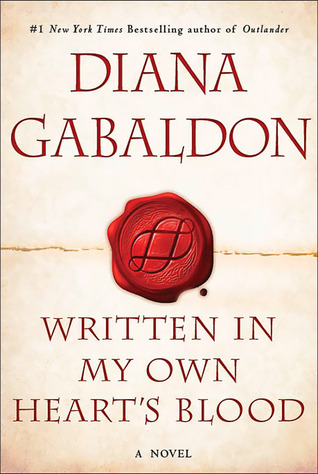 Four long years is how long I've been waiting for the latest Outlander installment, Written in My Own Heart's Blood (MOHB).
The last book (AEITB), left some MAJOR cliff hangers and I was actually pretty upset about the way AEITB ended for at least a week after finishing it.
MOHB picks up right where AEITB ended, literally. I am not going to get too much into the back-story or other books as I am assuming if you are reading this review, you have already read the series up until this point.
I will admit, I should have re-read AEITB before I started this one. I was literally so lost for the first part of the novel.
I couldn't remember exactly where things were in AEITB, only the major things, and this book just starts right back up where things ended, up to the minute.
So, that said, I should have re-read the last novel. It's been four years so of course I have forgotten a lot of plot details along the way. I actually felt like I had forgotten a lot of the entire series, so much so that I feel like I need to go back and re-read the entire series cover to cover.
We find Claire reunited with the not so dead Jamie, but there is a bit of a problem….she has married Lord John in the wake of Jamie's death. Lord John saves Claire from imminent arrest by marrying her. But When Jamie returns from the dead, he gives Lord John quite the shock.
And it doesn't help matters much that Lord John has had carnal knowledge of Claire. Lord John's son, William, also get the shock of a lifetime when Jamie returns. The man he has known as Mac, is actually his father.
The whole lot of the Fraser/Grey family is in quite the state of upheaval. But there isn't time to sort things out. Claire and Lord John are living in the loyalist town of Philadelphia but the rebels are threatening to overthrow the British and take the city back. The British military is on the move taking all loyalists with them which means, Claire is expected to follow.
In all the confusion, Jamie and Lord John find themselves in the middle of nowhere when the rebel militia find them and demand answers. While Claire happens to tend to Lord John's brother, Hal's, serious asthma attack when she runs into him while the British military is fleeing.
Meanwhile in the 'modern' era, Brianna and Roger are dealing with a kidnapping. Jem was supposedly taken back to the past by Rob Cameron. In an effort to find Jem and bring him back, Roger and Buck travel through the stones only to find themselves in the wrong time!
This novel is difficult for me to review. So far, I liked this one the least in the series. Many people have said how much they loved this one, like as much as the first one, but for me….I just couldn't get into it like I did some of the others.
I think what bothered me the most was the lack of Brianna and Roger story time. There was only one part and a few tidbits, but not nearly enough in my opinion. The last book left a lot of Roger/Brianna cliff hangers and I just felt like nothing really happened in their story….or not enough happened.
Roger is one of my fav characters so I was expecting more I guess. Rodger and Brianna's story line was the most compelling by far. Theirs was the only plot line that moved forward for me.
As for Claire and Jamie's story….their story was satisfying but the progress of their story wasn't overly compelling for me. Their relationship remains forever strong and they are clearly committed to each other but in general, their story just didn't move forward enough.
I was also hoping that after AEITB we were about done with the Revolution. Most of this book is based in military camps and there is a ton of discussion on warfare and military strategy not to mention military camp life.
I am not as up on my American History as I probably should be, but from a historic perspective this novel made me feel all the more inadequate. There was so much history about the American Revolution that I was kinda lost in a history haze.
There were many times that I was like, what is going on? Who are the loyalists again and why is that battle important? Is it important? Where are they at now? How long has the war been going on? Who's Benedict Arnold again and what did he do?
So basically I was lost in the history fog a lot and found myself researching the war more than reading the story and after awhile I was so tried of reading about the war in all it's glorious details that I was just like OK are we about done with the Revolution here or what?? I found myself skimming a lot, especially toward the end. Mind numbing….the historic detail bogged down the story too much for me and I can honestly say that I would struggled reading this novel again.
Personally I am kind of ready for things to start wrapping up with the war and such. There are so many characters that have come and gone in this story and so many historic battles and events that have come and gone and I'm just kinda ready for things to wrap up.
I want to know more about the time travel and how it works and how some of these secondary characters fit into the lives of the main characters, for instance the new Captain Randall. I don't know I guess there is a lot going on and I am ready for things to start culminating a little bit.
For me, so much of this novel seemed like filler story rather than advancing the overall story/plot. I felt like a lot of AEITB was filler and that this would be more advancement in the story, but it just seemed like a lot happened but we got no where fast if that makes sense.
This book also lacked a lot of the philosophical musing that I found so wonderful in many of the other novels. I loved DOA, FC, and ABOSAA for that reason…as well as many of the other books, but for me this one just didn't have that same vibe to it.
All that said, I still thought the story as a was good and the series as a whole, is AMAZING….but I guess I was expecting more from this novel. Maybe that's what comes from the four years anticipation.
Challenge/Book Summary:
Book: Book: Written in My Own Heart's Blood (Outlander#8) by Diana Gabaldon
Kindle Edition, 848 pages

Published June 10th 2014 by Delacorte Press (first published June 5th 2014)

ASIN B00C8S9W0G

Review copy provided by: Personal collection
This book counts toward: NA
Hosted by: NA
Books for Challenge Completed: NA
Recommendation: 3 out of 5
Genre: Historic Fiction, Fantasy, Romance, Historic-Romance
Memorable lines/quotes: 
 In the light of eternity, time casts no shadow.

Always act as if you know what you are doing, even if you don't.

Advice? You're too old to be given it and too young to take it.

I wondered whether people who are unhappily married think of their own nuptials when they witness a wedding; I thought that those who are happy always do.

Even when the world ends, things bloody go on happening. You just don't know what to do about them.

The deepest feeling always shows itself in silence.