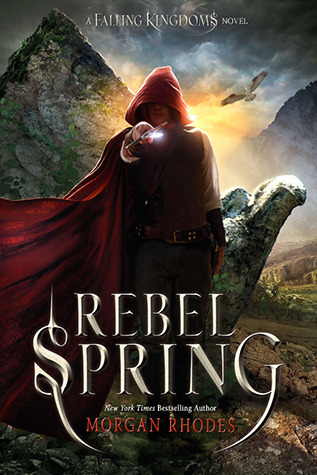 After a bloody siege, Auranos has been defeated and the young queen, Cleo, is a captive in what was once her home and kingdom. The three kingdoms—Auranos, Limeros, and Paelsia—are now unwillingly united as one country called Mytica with the King of Blood as their ruler.
At the heart of this conflict though is the quest for magic. Four brave young people search for that magic and the power it promises.
For Cleo,  the magic would enable her to reclaim her royal seat. In Jonas's hands, it frees his nation, and in Lucia's, it fulfills the ancient prophecy of her destiny. And if the magic were Magnus's, he would finally prove his worth in the eyes of his cruel and scheming father,the King of Blood.
If the King of Blood has his way though, he will use that magic for complete domination and absolute power over Mytica. All of them are frantically searching for magic but no one really knows where to start and they each only have a little piece of the puzzle.
When the King of Blood begins to build a road into the Forbidden Mountains to physically link all of Mytica, his cruelty sparks a revolt among the people that will change the course of the kingdoms and its people.
This book was a huge improvement over the first book! While the first book basically just introduced us to a few key players and the world, this book actually took us deeper into Mystica and its mysterious legends. We also got to know some of the characters better as well as see them evolve and change.
The character who has changed the most for me was Cleo. In the first book she was horribly naive….boarding on downright dumb, but seeing her change and grow up was fulfilling to me as a reader and I feel satisfied with how her character has evolved in this book.
One of the most intriguing characters to me in Magnus. Who's side is he really on? Is he good? Is he bad? What's his destiny going to shape up like in future books? He's so brooding and mysterious and I really want to know as much about him as possible. So I am looking forward to the next books to see where his loyalties ultimately lie.
As with the first book, I liked how the author doesn't hold back when it comes to violence etc. I thought it was tastefully done and added realism to the story. She also added some curse words in there and can I just say THANK YOU for that?! It wasn't excessive and used to add emphasis to a troubling scene or situation. I thought they were well placed and again, added authenticity and realism. Sometimes there are just nothing else to say but 'shit'. So I liked that she didn't try and stick with a squeeky clean teen book. There is alcohol, sex, cursing, and violence but it's not offensive in the least.  I love that the author was bold enough to go with this daring content….these things aren't to focus of the story but they add interesting depth to the people and the world.
I also like that this series isn't entirely focused on the romance element. A lot of YA adventure/fantasy books focus on the romance and quest equally but this one seems to weigh heavier on the quest/adventure part and I will admit that is refreshing. I like that there is no clear romantic interest for Cleo who for me has basically become the lead character. There are possibilities but none completely clear….it's a mystery that I am enjoying trying to figure out.
This series has a lot of room to grow and I love that there are seven books planned rather than the standard three. There is still so much to explore…..magic, the Watchers, the Kindred……so much to learn about and develop and I love that so far each book seems to do that really well. First book introductions and premise with the second book exploring getting more into magic and the Watchers as well as continued character development.
I'm way more impressed now with the second book under my belt. I've downloaded the next book in the series and can't wait to get back into the Mytica world!
Challenge/Book Summary:
Book: Rebel Spring (Falling Kingdoms #2) by Morgan Rhodes
Kindle Edition, 416 pages

Published December 3rd 2013 by Razorbill (first published November 27th 2013)

Review copy provided by: Personal collection
This book counts toward: NA
Hosted by: NA
Books for Challenge Completed: NA
Recommendation: 4 out of 5
Genre: YA, high fantasy, fantasy
Memorable lines/quotes: 
Sometimes, to regain sanity, one had to acknowledge and embrace the madness.