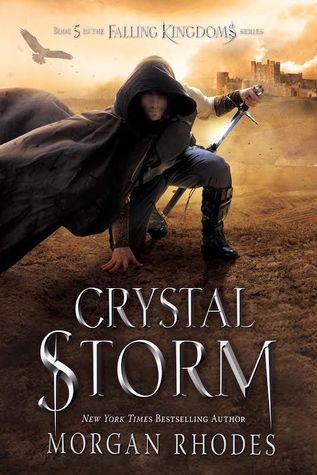 Yet another book that I pre-ordered and waited anxiously for MONTHS for it to be released. When I started this series, I was not terribly impressed with the first book in the series, but I wasn't entirely ready to abandon the series all together either.
Something kept me reading the series and as the series developed, so did the writing and the plots. I have really enjoyed the subsequent books and read them all in rapid succession. I pre ordered the fourth book and read it rather quickly and it left a few cliff hangers so I was ready for the next book almost immediately.
Then of course I had a baby so I was disappointed that I couldn't start reading this one when it came out in Dec, but in a way I am glad I waited to start this one. There were a lot of things that I liked about it and a lot of things that just weren't working for me.
Granted, I will admit that I liked this one more than the fourth book, I didn't really start enjoying it or being really invested in it until the book was more than half over.
The ruthless Empress Amara has taken the Mytican throne, and now uncertainty looms over the three kingdoms. Since Lucia unleashed the fire Kindred, wreaking havoc throughout the land, Myticans have been looking for someone—anyone—they can trust. They believe in Amara, not knowing her grand promises are built on lies.

In Paelsia, Magnus and Cleo reluctantly follow King Gaius to the home of his exiled mother, Selia. Selia is a powerful witch and claims she can help unlock the magic of the Kindred—if the visitors agree to her terms. When Jonas arrives from Kraeshia, he is shocked to find that his rebel army now includes his sworn enemies. Along with Nic, Felix, and the mysteriously resurrected Ashur, the contentious group agrees to cast aside old grudges—for now—and united against their common enemy: Amara.

Meanwhile, bearing the child of a Watcher and feared by all, Princess Lucia travels across Mytica to find her family. But time is running out. The impending storm signals the dark prophecy Timotheus warned her about. Her fate is written, and it includes none other than the rebel Jonas. When their paths collide, Jonas and Lucia must decide between blindly following their destiny or fighting for their own free will. (Goodreads Summary)
I think the biggest issue I had with this one was the portrayal of Gaius. Throughout the first four books he is very much the villain and all of a sudden there is a darker back story that begs for sympathy. While I enjoyed that element eventually….it took me a while to buy into it. I felt like the entire series was about defeating King Gaius and all of a sudden here was this tragic story that explained, at least to a degree, what happened to him. As I said it took me a while to become invested in that part of the story but at the same time now I want to know more about his past based on this explanation.
Other parts of this story moved a little too slow for me. I was least invested in Amara's and Jonas's parts of the story. I really just wanted to read the Magnus and Cleo parts. Eventually the Jonas parts grew on me but I was really not into Amara's parts at all for some reason. I realize they were necessary and filled in parts of the story that will become important later but over all I just wasn't as captivated by her for some reason.
Magnus and Cleo have such a dynamic and volatile relationship that I just love for some reason. Magnus is perpetually brooding and I love it…..I love a brooding hero and he is a well written, flawed hero that I can't help but love. Add Cleo into the mix and you have a fiery romance that I simply adore. The way this book ended and the trials and tribulations their relationship underwent left me wanting more. I am now even more excited to see what the next book holds. I hear it will be the final installment in the series and that makes me sad….I hope that everything wraps up in the next book.
Challenge/Book Summary:
Book: The Beauty of Darkness (The Remnant Chronicles #3) by Mary E Pearson 
Kindle, 379 pages

Published December 13th 2016 by Razorbill

Review copy provided by: Personal collection
This book counts toward: NA
Hosted by: NA
Books for Challenge Completed: NA
Recommendation: 4 out of 5
Genre: YA, fantasy, romance
Memorable lines/quotes: