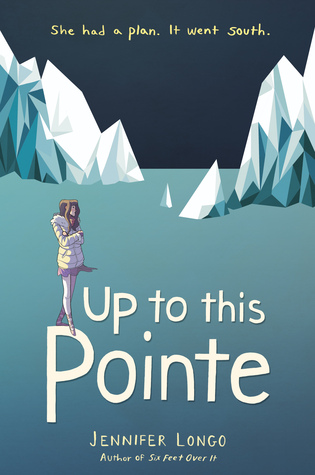 Antarctica, ballet, and science….all together in one story. What in the world?
That's exactly what was going through my mind when this book came across my nightstand for review.
I almost passed on it because it just sounded so weird, but it's because of the weirdness that I decided to review it.
I knew one of two things was going to happen…..either it would totally work or it totally wouldn't and I would know immediately which it was! I was impressed by how quickly this story sucked me in.
Harper has been a dancer her entire life. It's all she's ever wanted to be. It's her only dream….she's put YEARS of her life into becoming a professional ballerina and the possibility of being anything else is out of the question. Well what Harper thinks she should be in life and what the actual likelihood of that happening are completely different.
When things don't turn out how Harper expected she runs as far south as humanly possible….Antarctica. Random right? Well not really, because Harper is related to Robert Falcon Scott, the explorer who died racing to the South Pole. So the South Pole and Antarctica are in her blood.
The only way she can get there is by applying to one of the most exclusive science grants in the world….only two students are chosen to live on The Ice for six months and those two spots are full. Harper begs a friend to pull some strings and get her a place on The Ice. A few short weeks later Harper is on a place to The Ice where she hopes she can sort out the mess that's become her life.
The novel alternates between the months leading up to Harper's Antarctica excursion and her actual time on The Ice. In San Francisco, we meet Harper's best friend Kate who is clearly a superior dancer and Owen, the guy who is crushing on her hardcore but she is too occupied with dance to really notice. Then it's back to The Ice where we meet Vivian, another science student and Charlotte who is leading some of the science research, and Aiden another student who charms the ballet shoes off of Harper.
As the story unfolds, it's clear that Harper needs to accept reality and figure out what she is going to do about her life.
Everything about this novel worked! I loved the Antarctica setting for a big chunk of the book. It was so different and unique for a setting. I was captivated by the whole T3 illness, the science center, the South Pole, the penguins…..I mean everything! I found myself Googling trips to Antarctica between readings because I desperately want to go there now…..so when I get $45,000 for that trip I will be heading that way LOL.
Anyway, so this was a great story. I was sucked in from the beginning. At times Harper was a little whiny and cried a lot of my taste but then again her whole life is crumbling into a giant mess all around her so it made sense. It's hard to say goodbye to a dream you have had your entire life, especially when you have sacrificed so much…..from friends to bone surgery…..everything. I thought Longo captured that feeling flawlessly.
This novel moved quickly because of the alternating settings and time periods. I was able to connect with most of the characters and was invested in the story and their lives. The only thing that bothered me about this book was the swift unexplained exit of Aiden. I feel like by doing that, it didn't force Harper to make a choice and I wanted her to make a choice about that situation rather than have it made for her. That's the only thing that kept this from being a 5 star book for me.
It was so different and so unique, I loved so much about this book, but I was mostly in love with the setting. It was a daring stroke of genius for the author to try out this kind of formula but Longo nailed it! It worked so so so well! This was a completely different kind of YA book for me……you don't have to know anything about ballet, science, or Antarctica to love this book!
Challenge/Book Summary:
Book: Up to This Pointe by Jennifer Longo
Kindle Edition, 352 pages

Expected publication: January 19th 2016 by Random House Books for Young Readers

Review copy provided by: Publisher/Author in exchange for an honest review
This book counts toward: NA
Hosted by: NA
Books for Challenge Completed: NA
Recommendation: 4 out of 5
Genre: YA, Contempo Lit
Memorable lines/quotes: NA