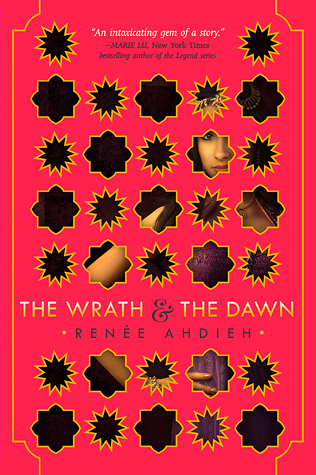 Sixteen year old Shahrzad volunteers to marry a monster but she does some with one purpose in mind…..to kill the monster.
Khalid, Caliph of Khorasan, takes a new bride every night and in the morning promptly murders them.
One of the latest victims of the Caliph is Shahrzad's best friend….and that is the reason she volunteers to marry him next…..she plans on getting vengeance on the boy king who murders innocent young women.
None of the brides has survived to see more than a single sunset, but Shahrzad had a plan…..and that plan involves telling the king stories each night in and waiting for the perfect opportunity to learn his weaknesses which she will ultimately use to destroy him.
Well what started out as a good idea soon begins to backfire as Shahrzad starts to develop unwelcome feelings of desire for the young king.
Torn between avenging her best friend and falling in love with a man who is the very air she breaths has its costs. Khalid and Shahrzad risk everything for love but that choice could ruin not just the two lovers but the entire kingdom as well.
I've seen this book being recommended all over Goodreads, not to mention it was up for the Goodread Choice awards for best YA novel, so basically it's been everywhere with rave reviews.
It sounded like a different kind of YA story, particularly because it's based on the classic Arabic tale One Thousand and One Nights and it sounded a little like Aladdin which I just watched recently so I thought why not? A lot of the YA novel's I've read lately have been all about fantasy and adventure so I was ready for a romance set in the Middle East.
In fact that was one of the things that I loved best about this book, was that it was set some place different and exotic feeling.
This book had a lot of things to love…..a romance the crept up on you, a tragic hero trying to do the right thing, the misunderstood first love, the strong but innocent heroine, political intrigue, and a magic carpet! What isn't to love?
Khalid totally grew on me. In the beginning I was curious how this seemingly cold, calculating young king is going to develop into this tragic romantic interest. But somehow he won me over slowly, which is the best kind of winning…..like the heroine, the reader is also won over by Khalid's charm and charisma carefully and then all at once. I loved this aspect of the book! I also loved that there wasn't really a 'love triangle' so to speak.
Tariq was Shahrzad first love. And he vows to rescue her from the palace and the evil boy king, but when he realizes that maybe she is actually in love with Khalid…..he refuses to accept it. Tariq was kind of a constant annoyance for me. I felt like he was so whiny and it was clear that she was not in love with him…..she even says 'hey I'm not in love with you' and yet he still refuses to give up on it….so for me that doesn't constitute a love triangle. In general, I was kind of bothered by his character but at the same time I think things will get interesting in the second book with Tariq…I'll leave it at that so I don't ruin anything.
Despina, Shahzad's handmaiden kind of bugged me at times….I couldn't really connect with her and her constant bickering with Shahzad just grated on my nerves at times but I also felt like she was at least a good friend to Shahzad so I could tolerate her. Jalal was charming, funny, supportive, and perfect as Khalid's best friend and cousin. I trusted him and enjoyed scenes with him. There were a lot of secondary characters to love and the political intrigue fanned the flames of building conflict so I am really excited to see how things unfold in future books.
I loved this book. The chemistry between Khalid and Shahzad was flawless. I loved that Ahdieh wasn't afraid to address the sex issue in teen lit. I think a lot of YA authors tend to shy away from sex in teen lit but I personally think it makes the main character so much more relate-able and the issues so much more accessible when authors address it. Not to mention it was tastefully done in this book and I loved how Ahdieh addressed this issue and thought it was beautiful and tastefully done.
This was truly a wonderful read…..beautiful, heartbreaking, and sensual…..I can't wait until May for the next book!
Challenge/Book Summary:
Book: The Wrath and the Dawn (The Wrath and the Dawn #1) by Renee Ahdieh
Kindle Edition, 416 pages

Published May 12th 2015 by G.P. Putnam's Sons Books for Young Readers

Review copy provided by: Personal collection
This book counts toward: NA
Hosted by: NA
Books for Challenge Completed: NA
Recommendation: 5 out of 5
Genre: YA, romance, fairy tale retelling
Memorable lines/quotes:
Without a measure of arrogance, how can one attempt the impossible?

A woman is faithful or she is dead. There is no in-between.

A shared history does not entitle you to a future.

Loss is loss. And the lesson is always the same.

Some things exist in our lives for but a brief moment. And we must let them go on to light another.

One of the best things in life is the knowledge that your story isn't over yet.