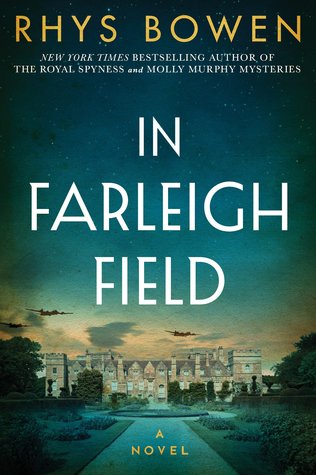 Rhys Bowen is probably best known for her Royal Spyness Mysteries series and her Molly Murphy Mysteries. She typically writes cozy mysteries, so when this book came across my desk for review, it sounded like something completely new for her which is why I decided to try it.
I've been reading a lot of cozy mysteries lately and welcomed a little break. I wasn't entirely sure what to expect from this one. The title suggests more literature, 'A Novel of World War II' says more literature rather than mystery to me. But yet the description sounded more mystery. Either way, I liked what I saw for the description and ultimately said yes to the book.
World War II comes to Farleigh Place, the ancestral home of Lord Westerham and his five daughters, when a soldier with a failed parachute falls to his death on the estate. After his uniform and possessions raise suspicions, MI5 operative and family friend Ben Cresswell is covertly tasked with determining if the man is a German spy.
The assignment also offers Ben the chance to be near Lord Westerham's middle daughter, Pamela, whom he furtively loves. But Pamela has her own secret: she has taken a job at Bletchley Park, the British code-breaking facility.
As Ben follows a trail of spies and traitors, which may include another member of Pamela's family, he discovers that some within the realm have an appalling, history-altering agenda. Can he, with Pamela's help, stop them before England falls?
Inspired by the events and people of World War II, writer Rhys Bowen crafts a sweeping and riveting saga of class, family, love, and betrayal (summary from Goodreads).
Delightfully, this book was a combination of literature, romance, intrigue, and mystery but something about it lacked the polish I had come to expect from Bowen as an author. The beginning was a little slow, but thankfully it picked up after a couple of chapters. The ending seemed rushed and thrown together which I found disappointing.
But for me, the biggest issue was the predictability factor. I felt like I had read a story like this before. It wasn't really 'new' or 'fresh' for me. There were things that I liked about it and elements that were intriguing such as the RAF pilots, the spies, and the aristocratic family are all fun elements but for me it just wasn't all the different than other things I had read. Honestly there was something about the book that made me feel like it might be better suited in WWI rather than WWII. I don't know if it was the aristocratic family or what, but in my mind I felt like the ancestral estate was more suited to that time period rather than WWII. However the whole plane crash RAF pilot story obviously fit better in WWII, but I don't know…there was just something a little off about that for me.
Other reviewers also noted the over use of slang or phrases such as 'crikey' or 'blimey'. I would completely agree…..way over done. Almost to the point of distraction however the more I thought about it, I think the author was trying to add a style to the characters. It's hard to explain but in my mind, all British country gentlemen of class say things like 'jolly good fun'. It just sounds cheeky and very British and I think the author was trying to convey that in some way but in this case it seemed to be a little too over done.
Now, all that said, doesn't necessarily mean that I disliked the novel. On the contrary I thought it was good. Maybe not excellent or riveting, but good all the same. I felt like the historical elements were well researched and developed which added authenticity to the story. I also like that this was a stand alone book rather than a series. I liked the family saga and the romance was tasteful and believable. I enjoyed all the characters and I thought there was enough suspense to keep me reading.
It wasn't entirely mind blowing or 'ground breaking' but I did like it and enjoyed reading something different from what I had been reading in the past few weeks.
If you are looking for a family war drama with some mystery and intrigue then I would say give this one a go.
Challenge/Book Summary:
Book: In Farleigh Field: A Novel of World War II by Rhys Bower
Kindle Edition, 398 pages

Published March 1st 2017 by Lake Union Publishing

Review copy provided by: Author/Publisher in exchange for an honest review
This book counts toward: NA
Hosted by: NA
Books for Challenge Completed: NA
Recommendation: 3 out of 5
Genre: historical fiction, war literature, WWII, British lit, mystery