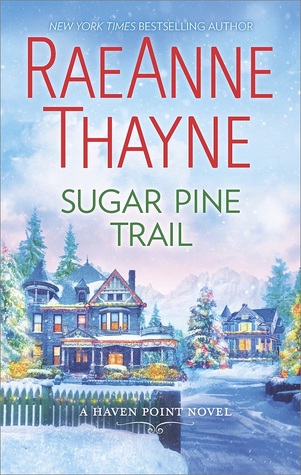 Yes I know it's a little early to be thinking about holiday reading. Every year, I swear that I will hold all holiday related reviews until at least November so I can reserve October exclusively for crime fiction, thrillers, and mystery reads.
However, some how a book always manages to grab my eye and I end up sneaking at least one holiday book in well before my November holiday kick off.
This book sounded like a charming holiday romance and sometimes you just need a little holiday cheer and romance.
Librarian Julia Winston is ready to ditch the quiet existence she's been living. She's made a list of new things to experience, but falling for Jamie Caine, her sexy military pilot neighbor, isn't one of them. Julia's looking to conquer life, not become the heartbreaker's latest conquest. But when two young brothers wind up in Julia's care for the holidays, she'll take any help she can get—even Jamie's.

Happy to step in, Jamie reveals a side of himself that's much harder to resist. Not only is he fantastic with kids, he provides the strength Julia needs to tackle her list. She knows their temporary family can't last beyond the holidays, but the closer she gets to Jamie, the more she wonders if things could be this merry and bright forever (summary from Goodreads).
This is a completely new author to me. I haven't read any of her books, nor am I familiar with any of them–let alone this series. As you can see, this book is number seven in this series. Personally, I didn't have any issues with picking this book up without having read the others. It read fine as a stand alone, though there are hints of past books sprinkled throughout, but I don't think you are missing a lot if you just pick this one up and start.
I gather that this author specialized in Christmas romances after looking up a few of the other books in the series on Goodreads. So if you are a sucker for Christmas romances, I would look into the other books in this series. They read quick and have the predictable HEA and Christmas joy that one would expect from such a novel—and I love it.
This book was a little predictable and formulaic in it's approach, but honestly, I didn't care. I liked this one a lot more than I anticipated. I loved Julia–who was the stereotypical librarian–and even though she was predictable, I liked her all the same. Sometimes there is comfort in familiarity. And Jamie–sexy. I liked him in spite of his flaws and I could see why Julia was harboring a lengthy crush on him. What did it for me was his ability to step up and help Julia when things got a little challenging in her world….I will leave it at that so I can avoid spoilers.
The story was fast paced and full of romance and Christmas cheer which was exactly what I was looking for. Predictable and a HEA in spades but I loved it all the same, as I said there is comfort in the familiar which allowed me to escape in just the way that I needed to.
I did want to take a minute and talk about the cover. The cover leaves something to be desired. I realize all of her books in this series have very similar art work for their covers. I found it boring and 'dated' if you will. I think the series itself needs a cover overhaul. Something fresh to appeal to a wider audience. For me this says 'old lady romance' and this book is NOT that. It's not erotic literature but it's more than my grandma's romance novels.
Book: Sugar Pine Trail (Haven Point #7) by RaeAnne Thayne
Review copy provided by: Publisher/Author in exchange for an honest review
This book counts toward: NA
Hosted by: NA
Books for Challenge Completed: NA
Recommendation: 3.5 out of 5
Genre: Romance, holiday romance, contemporary lit, contemporary romance
Memorable lines/quotes: