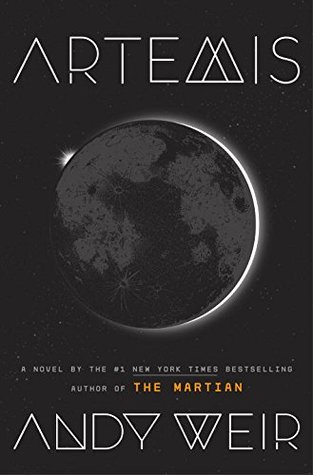 This book is everywhere. It's all over my Instagram. It's all over my Twitter. It's front and center in every bookstore in my city. It won for best Sci Fi on Goodreads. The cover is interesting, eye catching, and cool! The hype around this book is real. People are basically fighting to read this book.
So imagine my luck when I found it on the 'Lucky Day' display at my local library! I immediately check it out and was excited to see what all the fuss was about.
Sci Fi isn't a genre that I read a lot of but I love science and space and I loved The Martian (film, I haven't read the book yet). The hype (in that moment seeing it at my library) was real for me. I grabbed it and headed home to start reading.
Jazz Bashara is a criminal.
Well, sort of. Life on Artemis, the first and only city on the moon, is tough if you're not a rich tourist or an eccentric billionaire. So smuggling in the occasional harmless bit of contraband barely counts, right? Not when you've got debts to pay and your job as a porter barely covers the rent.Everything changes when Jazz sees the chance to commit the perfect crime, with a reward too lucrative to turn down. But pulling off the impossible is just the start of her problems, as she learns that she's stepped square into a conspiracy for control of Artemis itself—and that now, her only chance at survival lies in a gambit even riskier than the first (summary from Goodreads). 
Where do I begin. I have so many thoughts on this book. First of all, I never connected with Jazz. She was too much of a disaster and I just never really liked her. I never even really felt back for her and her situation. I also didn't care for how brash she was. First of all, I have a trucker mouth so books with profanity don't bother me. However when it becomes filler, or too much for shock value, or too over the top, then it starts to bother me. And that's what happened in this book.
There was just too much profanity and not enough story or character development. I understand that we were meant to see Jazz as this criminal living in the gritty underbelly of the moon colony but for me, the profanity was used too much to convey what he could have accomplished in other ways if that makes sense. Like through more character development. A lot of reviewers found Jazz funny…..I feel like I missed that when I was reading. I never felt her humor. Maybe a little dark humor here and there but nothing to make me think that she was in any way funny. The fact that I couldn't connect with Jazz at all should have made me DNF this book, but yet I was oddly intrigued by the setting.
The setting was the only thing that saved this book for me. I loved the concept of a whole life/city on the moon with its own culture and world. The setting was pretty genius however, I often felt like I was reading a science book with all the explaining about how life on the moon was accomplished. There was a heavy science background with everything and while that was helpful and obviously what you would expect from Sci Fi, it felt like overkill. I just wanted my imagination to take over and let my mind wander within the landscape but I felt like Weir spent a lot of time telling the audience how things happened.
By about 40% in, I felt so frustrated with the writing and characters that I almost DNF but yet I was intrigued enough by the story at this point that I needed to know how it resolved, so I kept on until the end. I was glad that I did because I did like the setting and I had devoted so much time already to this book that I just kept on reading…..but in the end I just didn't think this was the book for me.
The setting was cool and the concept of life on the moon was compelling and intriguing and I loved the possibilities that Weir develops but I just didn't care for the story he choose to tell. I think there were other more intriguing stories that could have come from the setting alone, but this was the one we were told. I wouldn't mind seeing other books set in the world but this one fell short of the hype for me which was sad and disappointing because I so wanted to love this book.
Book: Artemis by Andy Weir 
Review copy provided by: Personal collection
This book counts toward: NA
Hosted by: NA
Books for Challenge Completed: NA
Recommendation: 1.5 out of 5
Genre: Sci Fi
Memorable lines/quotes: