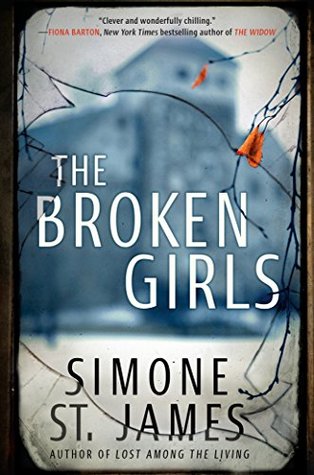 I am not a huge ghost story reader. In fact I rarely read any ghost stories because I like being able to sleep at night.
That said, this book has been all over my social media. It's everywhere. I saw it on Book of the Month, long before I was approached to review it and admittedly was intrigued. I made a mental note to pick it up from my library once it was available and moved on.
Then it came across my desk for review. I was open to giving it a shot, and the cover was eye catching so I agreed. In Feb it was BOTM top pick and again, it was everywhere.  While I was recovering from my surgery in Feb, I was looking for something I could read quick and enjoy. So I got a jump on my March reading and started with this one.
Vermont, 1950. There's a place for the girls whom no one wants–the troublemakers, the illegitimate, the too smart for their own good. It's called Idlewild Hall. And in the small town where it's located, there are rumors that the boarding school is haunted. Four roommates bond over their whispered fears, their budding friendship blossoming–until one of them mysteriously disappears. . . .
Vermont, 2014. As much as she's tried, journalist Fiona Sheridan cannot stop revisiting the events surrounding her older sister's death. Twenty years ago, her body was found lying in the overgrown fields near the ruins of Idlewild Hall. And though her sister's boyfriend was tried and convicted of murder, Fiona can't shake the suspicion that something was never right about the case.
When Fiona discovers that Idlewild Hall is being restored by an anonymous benefactor, she decides to write a story about it. But a shocking discovery during the renovations will link the loss of her sister to secrets that were meant to stay hidden in the past–and a voice that won't be silenced (summary from Goodreads).
St James is a completely new author to me and I was blown away. This book had so much to recommend itself. Suspense (in spades!), romance, madness, ghosts, a murder with missing pieces. Everything.
The one thing that stood out to me above all else was the atmosphere of the novel. Fiona is grieving the loss of her sister and just can't let it go. Personally I didn't like aspects of Fiona's personality, but I thought she worked incredibly well in this story. While I might not have liked her, I was still able to connect with her and feel empathy for not only her situation but her growth as a character.
I can't really say what I didn't like about her–maybe it was how she treated her boyfriend–or maybe it was something else but for some reason I wasn't a huge fan of her. That said, her story was powerful and held my interest even if I didn't like aspects of her personality. Her tenacity borders on madness, but she keeps plugging away at the mystery even if that means exploring the long and checkered past of Idlewild Hall.
Idlewild Hall reminded me of something out of a horror film. It's basically where families send their daughters that they want to forget. It's one step above insane asylum if you ask me. It's rundown, creepy, and haunted by the resident ghost of Mary Hand.
Ahhhh Mary Hand, there is an old rhyme about Mary in the book. The girls all know it and she appears to each girl and shows them different things. Different haunting images. Don't let her in. She says she wants to be your friend. But don't let her in. It's so unbelievably creepy but not to the point of being a horror novel which I appreciated. Though truth be told, I was totally creeped out and dreamed about Mary myself. I did have a few sleepless nights–full disclosure!
The plot of the book was unique. I liked how the ghost story and mystery coincided. The historical piece was interesting and while some of the plot points in the book were easy to spot and sort out using logic and reason, I still found myself wondering how a couple of other plot points were going to resolve. I loved how each piece unfolded and was resolved. The duel plot and time period worked incredibly well for this story and I absolutely loved it.
Let me go back to the cover for just a minute….the cover was fantastic. It hints at a gothic mystery with a hint of madness and ghosts which was exactly what this story was about. The cover was eye catching and gives readers an uneasy edge that will leave them dying to know more about the story within. I love this cover so much, it's a perfect addition to the story.
This book met every single one of my exceptions. Now having discovered St James, I went and ordered all of her other books to start immediately. This book as wonderful and memorable. I absolutely loved it. Her style is beautiful, haunting and atmospheric. I can't wait to read more of her novels! Get this book now. You're welcome.
Challenge/Book Summary:
Book: The Broken Girls by Simone St James 
Kindle Edition, 336 pages

Expected publication: March 20th 2018 by Berkley

Review copy provided by: Author/Publisher in exchange for an honest review
This book counts toward: NA
Hosted by: NA
Books for Challenge Completed: NA
Recommendation: 5 out of 5
Genre: Gothic mystery, suspense, ghost story
Memorable lines/quotes: NA