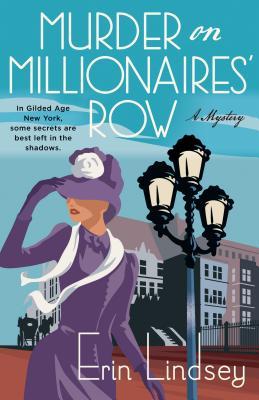 As soon as this book arrived at my house, I had to fight off people who wanted to borrow it with a stick. I am not even kidding. It arrived in the afternoon and by the night time, it was MIA.
My mom was watching my kid and she was looking for something to read and found this one  in my sea of books and refused to give it up when I got home. She was hooked on the character and story so I knew I wasn't getting it back for at least a week.
I finally got it back last week and was able to start reading it. My mom loved it and I was excited to see if it inspired similar feelings for me. When it arrived the first thing that caught my eye was the cover. I absolutely love the purple dress and design of this cover.
It stands out and instantly makes me think of a Maisie Dobbs mystery or other similar historical mysteries…..but theres a paranormal twist in this one and I was eager to see how that played out in this book.
Rose Gallagher might dream of bigger things, but she's content enough with her life as a housemaid. After all, it's not every girl from Five Points who gets to spend her days in a posh Fifth Avenue brownstone, even if only to sweep its floors. But all that changes on the day her boss, Mr. Thomas Wiltshire, disappears. Rose is certain Mr. Wiltshire is in trouble, but the police treat his disappearance as nothing more than the whims of a rich young man behaving badly. Meanwhile, the friend who reported him missing is suspiciously unhelpful. With nowhere left to turn, Rose takes it upon herself to find her handsome young employer.
The investigation takes her from the marble palaces of Fifth Avenue to the sordid streets of Five Points. When a ghostly apparition accosts her on the street, Rose begins to realize that the world around her isn't at all as it seems―and her place in it is about to change forever (summary from Goodreads). 
I have mixed feelings about the paranormal/ghost element in this story. I mean on one hand, it added a little something different to the typical run of the mill historical mystery, but I almost felt like the author held back a little with it. For me if you are going to use the supernatural, then you need to be all in or just leave it out. I think the mystery and characters were strong and stood well enough on their own and that the ghost elements weren't that necessary. It was an interesting edition, but I was left feeling a little underwhelmed.
I loved Rose. She was resourceful and I loved that while she was a hard worker, she know her own mind and knew she didn't just want to live and work and die in New York. I think she will be an interesting character to watch develop and grow into her own. Also I am totally invested in the romance aspect. I am totally excited to see what direction it goes in and I am totally rooting for them.
This book was a mixed bag for me. The mystery and romance was fun to read, the paranormal was almost unnecessary, and while the story was a little farfetched and unbelievable, I did love seeing the authors imagination at work and I was invested enough in the story to see what is in store for Rose next—as I presume this is going to be a series.
The author has written a fantasy series as well, and this appears to be her debut mystery novel and I think the author is still getting her bearings in the historical mystery realm. This is by no means a terrible book, in fact I enjoyed reading it and rather quickly I might add—I feel confident that Lindsey will find her way as the series continues. It's a good start and I look forward to seeing what comes next for Rose and Thomas!
Challenge/Book Summary:
Book: Murder on Millionaires Row by Erin Lindsey
Review copy provided by: Publisher/Author in exchange for an honest review, all opinions are my own
Recommendation: 3.5 out of 5
Genre: historical fiction, mystery, cozy mystery, paranormal
Memorable lines/quotes